Poetry Out Loud competition starts in November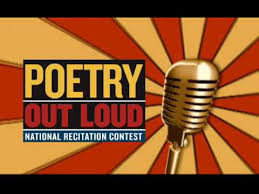 Imagine a student on stage in front of a large Ai??audience gesturing passionately with their Ai??hands while reciting one of William Shakespeare's sonnets. No, this time it is not a theatrical production; rather, it is a student competing in the Poetry Out Loud competition.
Poetry Out Loud is a national recitation competition funded by the National Endowment of the Arts and Poetry Foundation.
Students must memorize and recite three poems from a list provided by Poetry Out Loud. The competition is open to students from grades 9-12.
ai???Itai??i??s a great way for students to acquire reciting skills and have an understanding for poetry itself,ai??? said adviser Ms. Shari Griswold.
Poetry Out Loud, established in 2005, started at SHS in Ai??2009. The stages of the competition are as follows: classroom, school-wide, regional, state, and national.
The Classroom level students have to memorize two poems. The Regional, State, and the National level requires three poems to be recited.
ai??? Itai??i??s was a great experience for me,ai??? said senior Ayomiro Aderin, who competed last year. ai???The thing I Ai??liked most about participating in Poetry Out Loud was the challenge that came out of it. I think more students should try it.ai???
Poetry Out Loud competition practices will be held after school on Mondays and Fridays in Griswoldai??i??s room (C125).