Students at SHS have mixed opinions when it comes to the new SHS attendance policy, stating that they are only allowed to miss 10 days of school. While some students believe that the new policy should be enforced, others claim that it's an unnecessary nuisance. 
For the most part, many students feel that the SHS attendance policy barely affects them, since they are motivated to attend school on a daily basis to participate in extra curricular activities, electives of their interest, spending time with friends, and to avoid getting detention, and more.
Extra curricular activities such as football, show choir, and  many others, require students to attend school activities before practice or a match. As a result, students who are involved in extra curricular activities are already motivated to show up to school on a regular basis. 
"I'm always motivated to come to school so that I can participate in the clubs I'm involved in," said junior Brianna Mydosh.
Disciplinary action is a very strong motivating factor for students to show up to school as well. Students receive detention if they accumulate six or more unexcused absences.
"The new attendance policy doesn't affect me drastically because I'm always attending school so that I don't get a detention," said sophomore Elise Paputchi.
The SHS administration works hard to offer a rich curriculum with electives on a wide variety of subjects that students can choose from. Such a wide variety of options provides students with motivation to attend school because students are inspired by subjects that appeal to them. These electives include foreign languages, digital photography, cooking, art, journalism, and many more. 
"My favorite classes at school are the electives that I was able to choose for myself in the beginning of the year," said sophomore Julia Deihl. "It's those classes that make coming to school more enjoyable and fun."
On the other hand, some students claim that the attendance policy is not an effective measure to ensure that every student receive a quality education.
"The attendance policy proves how important school really is; it shows students that coming and learning is a valuable experience," said sophomore Caroline Liszewski.
But the new school attendance policy can backfire, and instead of increased school attendance, schools can face increased absences. It's a very common practice among students to skip school, as a result of stress and frustration from academics. Stress due to academics can lead to depression, and at times, frustration towards the school.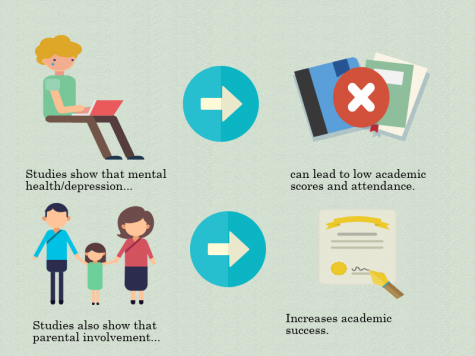 This can cause many students to have a negative attitude towards school, and not come to school in the first place, no matter what repercussions they face. With the new school attendance policy in place, schools may result in issuing more detentions and disciplinary actions. Some students believe that the new school attendance policy can have a negative effect on students who are already struggling with attending school.
Overall, school attendance is crucial to academic success. With rigorous efforts from school administration to make school an enjoyable and safe learning environment, the administration hopes that the new attendance policy can only encourage more students to attend school.