A Week of Taylor Swift
Taylor Swift is once again turning the world "red."
Taylor Swift has returned to the music scene in full force. Her fans, who have been dubbed "Swifties" have looked forward to the release of the re-recording of her fourth studio album, Red since she announced it back in June. 
Swift made the decision to re-record her first five studio albums after losing the rights to them. After switching from her former record label, Big Machine Label Group, to her current label, Universal Music Group, Big Machine forced her to leave the masters of six of her albums with them. However, instead of holding onto her rights, Big Machine quietly sold them to Ithaca Holdings, an organization run by music entrepreneur Scooter Braun. 
Braun is responsible for managing rapper Kanye West, who has notoriously verbally attacked Swift since the beginning of her career. Swift became understandably upset when she found out Braun was now the one who was in possession of all of her old music. This meant that any time she wanted to perform any song she wrote and released from 2006-2017, it would have to be approved by Braun first. 
To make matters worse for Swift, Scooter Braun then sold her masters yet again to a company named Shamrock Holdings. Braun began profiting off of Swift's songs, even though he had orchestrated media attacks against her in the years prior. 
Obviously frustrated by this series of events, Swift made the decision to re-record her first five albums in order to gain the rights to her songs back. In April of this year, Taylor dropped her first re-recorded album, Fearless (Taylor's Version).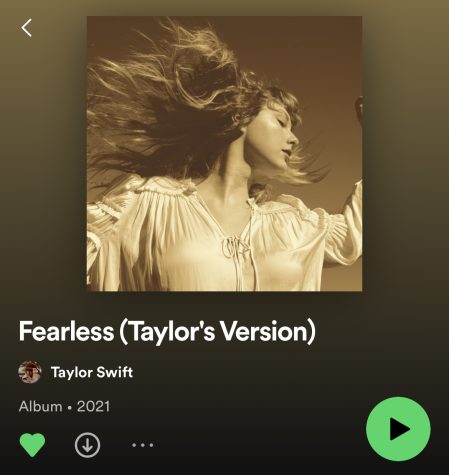 In her true fashion, Swift left hidden clues throughout her social media posts leading up to the day she dropped the album, hinting at more and more details regarding the album's release. 
In the days leading up to the album's release, Swift went on The Tonight Show starring Jimmy Fallon and Late Night with Seth Meyers.
And then there was November 12– album release day. Swifties around the world waited up to see 12:oo a.m. Eastern Standard Time so that they could hear Red (Taylor's Version), and witness Swift gain the rights back to songs that are rightfully hers and scream the lyrics to the same songs they did 9 years earlier when the original Red dropped in 2012.
Swift's Red album is home to many of her major radio hits including, "I Knew You Were Trouble", "22", "We Are Never Ever Getting Back Together", and "Everything Has Changed, Featuring Ed Sheeran."
On top of gaining the rights back to all of the old hits, and more from this album, Swift chose to add songs that she had written but never released from this time in her life- songs she labeled as From the Vault songs. 
On Red (Taylor's Version) there are nine vault tracks, including the very highly anticipated Ten Minute Version of the fan-favorite song, "All Too Well.' The song, which is perhaps one of Swift's most beautifully written, contains heartbreaking lyrics such as, "And you call me up again just to break me like a promise, so casually cruel in the name of being honest.", and "You kept me like a secret, but I kept you like an oath." 
"
And you call me up again just to break me like a promise, so casually cruel in the name of being honest.
— Taylor Swift
Knowing how well received this song was by not just Swifties, but by music fans across the board, Swift wrote and directed a short film starring actors Sadie Sink and Dylan O'Brian to tell the heart-wrenching narrative of a couple seemingly doomed from the start. This short film premiered on YouTube at 7:00 PM on the day of the album's release. The film proved to be just as, if not, more heartbreaking than the song itself.
On Saturday the 13th, Starbucks announced that they would be serving their hot nonfat caramel lattes as "Taylor's Latte" to go along with the release of the album.
That evening, Swift then made an appearance on NBC's hit late-night show, Saturday Night Live as a musical guest. Staring in a skit with comedian Pete Davidson, Swift then made an extremely ambitious move and performed the Ten Minute Version of "All Too Well" in one shot- an SNL first. Her performance was absolutely mesmerizing.
As if all of this wasn't already enough, Swift announced a surprise music video on Sunday the 14th for one of her vault songs, "I Bet You Think About Me, Featuring Chris Stapleton." The music video, directed by the famous actress, Blake Lively, dropped at 10:00 AM on Monday morning.
Within the past 2 and 1/2 years, Taylor Swift has managed to write and release her 7th studio album, Lover, her 8th Studio album, Folklore, her 9th studio album, Evermore, and 2 of the 5 albums she will re-record- Fearless (Taylor's Version) and Red (Taylor's Version). We can't wait to see what she releases next!
The official tracklist for Red (Taylor's Version) is as follows:
"State of Grace (Taylor's Version)"
"Red (Taylor's Version)"
"Treacherous (Taylor's Version)"
"I Knew You Were Trouble (Taylor's Version)"
"All Too Well (Taylor's Version)"
"22 (Taylor's Version)"
"I Almost Do (Taylor's Version)"
"We Are Never Ever Getting Back Together (Taylor's Version)"
"Stay Stay Stay (Taylor's Version)"
"The Last Time  (feat. Gary Lightbody of Snow Patrol) (Taylor's Version)"
"Holy Ground (Taylor's Version)"
"Sad Beautiful Tragic (Taylor's Version)"
"The Lucky One (Taylor's Version)"
"Everything Has Changed (feat. Ed Sheeran) (Taylor's Version)"
"Starlight (Taylor's Version)"
"Begin Again (Taylor's Version)"
"The Moment I Knew (Taylor's Version)"
"Come Back…Be Here (Taylor's Version)"
"Girl at Home (Taylor's Version)"
"State of Grace (Acoustic Version) (Taylor's Version)"
"Ronan (Taylor's Version)"
"Better Man (Taylor's Version) (From the Vault)"
"Nothing New (feat. Phoebe Bridgers) (Taylor's Version) (From the Vault)
"Babe (Taylor's Version) (From the Vault)"
"Message In a Bottle (Taylor's Version) (From the Vault)"
"I Bet You Think About Me (feat. Chris Stapleton) (Taylor's Version) (From the Vault)"
"Forever Winter (Taylor's Version) (From the Vault)"
"Run (feat. Ed Sheeran) (Taylor's Version) (From the Vault)"
"The Very First Night (Taylor's Version) (From the Vault)"
"All Too Well (1o Minute Version) (Taylor's Version) (From the Vault)"