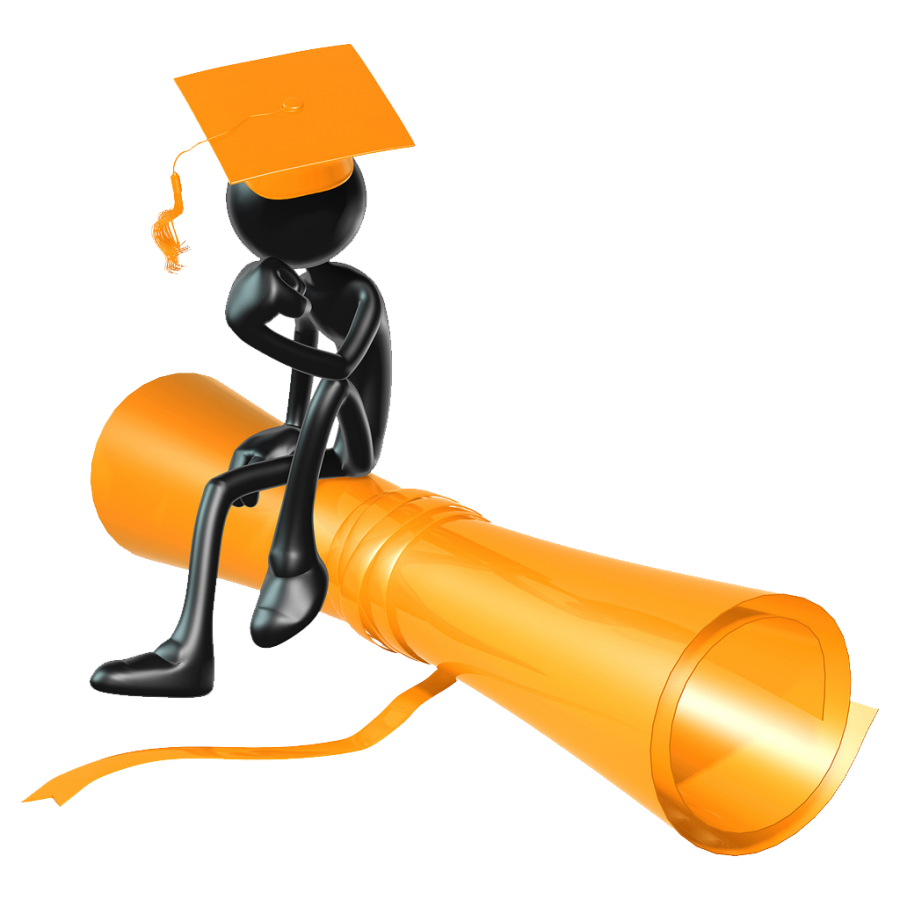 The senior homerooms, full of students texting, socializing and finishing up their first period homework, are unaware that principal Mr. Jeffrey Sodl is announcing the Horatio Alger Scholarship for the third time this week. Down in the guidance office, counselors cross their fingers, hoping seniors will finally get proactive in the hunt for scholarships.
"We announce every scholarship," said guidance counselor Mr. William Simonovich. "Students should pay more attention to the announcements. For senior students, every single scholarship is in a binder at guidance."
Every scholarship opportunity available is announced and provided with a summary of it. So why do thousands of dollars in scholarship money go wasted each year in guidance? What is holding students back?
"The uncertainty of not getting it is the most daunting thing about applying for scholarships," said senior Riley Kimball.
Many, if not all students face the problem of figuring out how they will afford college. Part-time jobs may seem like a solution, but if one did work 20 hours a week for $7.25 an hour, they still would not have enough to afford the average private college tuition of $30,094 or the average $22,203 they will pay if they go out-of-state.
"I work long hours. I don't have time for myself. I don't even have time to even do my homework," said junior Amanda Garvin.
One misconception among students is that they must wait until they are seniors to begin looking into scholarships.
"Start in the tenth grade with national college searches," said Simonovich, who recommended Fastweb.com, SAT.org and Peterson.com as useful scholarship sites. On these sites, there are scholarships for students from all different walks of life.
"Some [scholarships] are based on religion, some ethnicity, some are for having red hair," he continued.
Looking into scholarships earlier than most help a student prepare for future years. The Ayn Rand institute offers over 600 awards, amounting up to $100,000, with prompts based on Ayn Rand novels. Students knowing this in advance could prepare and tear through as many as her novels as they can.
These scholarships target students from grades 8 through 12. However, seniors have an edge over everyone else, causing many younger students to shy away from scholarship searching.
Of all students with a GPA between 3.5 and 4.0, only 19% will win scholarships for their academic success.
Of course, there are always exceptions. 2014 Stroudsburg alumnus Jennifer Jolivert, a first chair violinist and in the top ten percent of her class, was a Questbridge finalist. Through Questbridge, she was able to attend Haverford College on a four year Questbridge scholarship.
"I had my sights set on Questbridge since the beginning of junior year," said Jolivert. "It was a lot of work and required a lot of energy."
Students must keep in mind that Jolivert made up only 36% of the Questbridge applicants around the world, who were awarded a full four year scholarship.
With the competition so intense for national scholarships, SHS guidance counselors strongly emphasize trying for local money. Many scholarships are already available for this years seniors . Scholarships such as the Horatio Alger Scholarship, the Most Valuable Student Scholarship, and the PSECU Scholarship are waiting in guidance.
Guidance creates a local scholarship book. These scholarships cater only to the graduating class of that year and not to students of any other school district. Many of these scholarships are distributed during SASD's annual Moving Up Day in the spring.
"Most of our scholarships are need-based rather than academic or athletic," said Mr. Sodl.
Perseverance is key. As long as students put effort into applying, the chances of earning scholarship money significantly increase. So, the next time students pass by guidance, all they have to do is stop in and pick up an application.