Historic Turkey Day game will be missed by loyal fans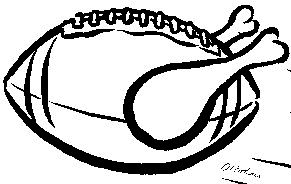 When Stroudsburg High School football players wake up on Thanksgiving morning this year, they will be missing something theyai??i??ve known for a long time: the annual Turkey Day game.
The famous football tradition has long tested the rivalry between Stroudsburg and East Stroudsburg South. Ai??And now the tradition is no more.
The Turkey Day game started in 1945, and has been played every year since. In 1952, it was decided to play on Thanksgiving morning. The tradition of walking home, hoisting the Little Brown Jug trophy complete with a police escort, began in 1967.
Turkey Day grew to be so popular it caught the attention of Sports Illustrated and was featured on their American Football on Thanksgiving page. The Mounties lead the overall rivalry with a record of 38ai??i??26ai??i??5 through 2013. The announcement of it being canceled sent a shock through the MountieNation.
ai???My reaction was disbelief at first," said senior football player Stevie Trbuza. "I honestly thought it was just a rumor and it didnai??i??t happen. I donai??i??t see it being beneficial either because itai??i??s a tradition lost.ai???
The main reason for canceling the game is scheduling. Ai??If either team continued to compete in the playoffs, they would have to play the Turkey Day game and a playoff game just a few days later.
ai???I was upset, being that itai??i??s my senior year and the team wouldnai??i??t be able to carry on playing the traditional Thanksgiving Day game," said senior football player Ryan DeHaven.
The game has been a part of Stroudsburg history for so long that losing it is a shock. Football players were not the only ones angry with this decision. Ai??Many parents and other students are also up in arms.
ai???It was a terrible choice to cancel the Turkey Day game because itai??i??s not only important to Stroudsburg history, but to everyone in Stroudsburg. Battling over the Little Brown Jug is something everyone looks forward to.ai??? said senior Demond Clark.
ai???The players may have been disappointed at first, but I still believe we kept tradition even if it wasnai??i??t on Thanksgiving.ai??? said Principal Mr. Sodl.
Sodl admitted that he was disappointed too when he heard news the game was no longer going to be played, but he understands and supports the decision.
This year's football team has had a regular season record of 10-0 and winning the first ever Eastern Penn Conference (EPC) North Championship over the Pleasant Valley Bears 35-31.
This year, the Little Brown Jug game was played on September 13, 2014 at 1 p.m. Stroudsburg emerged victorious over the East Stroudsburg South Cavaliers with a score of 21-0.
Senior football player Gerald Douglas, who recently surpassed Artie Owens as SHS's all-time leading rusher, said the Turkey Day game was a way for ai???people on the team who want to beat South again to be able to play and enjoy doing so.ai???
The experience, the feeling that everyone got being part of this game, is what made it so important and so special. The Turkey Day game brought students and alumni together to show their incredible school spirit.
ai???I would like to see it come back," said Trbuza. "Iai??i??ve grown up watching it and after Iai??i??m done playing for Stroudsburg itai??i??d be nice to come back for Thanksgiving and watch it again."