Students experience the outdoors in unique SHS class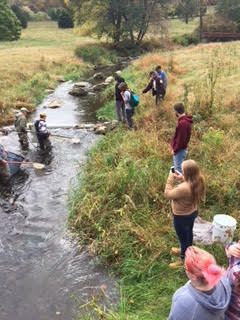 Pennsylvania is home to many natural treasures, including state parks, forests, game lands, national recreation areas, and wildlife refuges. Various communities, such as bogs, forests, streams, and lakes can be explored as well as the wildlife species, their history, and importance.
Fortunately for SHS students there is a course that covers all of the above: Pennsylvania's Wild Natural Resources. Ai??This course is designed to give students an introduction to the world of nature in the Keystone State.
This class is taught by biology teacher Mr. James DeRenzis, who is located in Room G-208. It is open to juniors and seniors.
ai???I want to be a biologist and this helps me learn about nature,ai??? said junior Megan Filipkowski.
Through this class, students learn that there are different kinds of jobs available to them, according to DeRenzis. One graduate is actually working in a fishery in Alaska.
DeRenzis enjoys teaching this class because it's a hands-on class where students get outside for field experiences. One hands-on project includes learning about Shad fish, a species going extinct. Students actually end up releasing them into the Delaware River.
Also, there are several guest speakers scheduled throughout the year. Ai??For example, DeRenzis has invited in PA Game Commission officers.
Students interested in enrolling in this class next year should contact Mr. DeRenzis in G-208.