ATTENTION: here's your chance to speak your mind!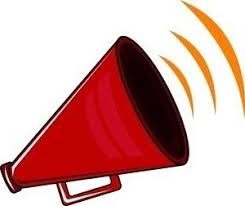 If you would like a chance to speak your mind about hot topics floating around our school, here's the place.
Below are over 150 amazing topics.  Choose one of these, or choose your own!
All you have to do is go to the COMMENT section (which is at the bottom of this story), pick one of the many topics provided below, and write a brief, thoughtful reaction (35-50 words, 2-3 paragraphs). Please spell check and edit your response.  
Include the following:
Your name (first and last)
Your school email
The whole question and your response
150 + Amazing topics:
Is Cheating Getting Worse?

If Football Is So Dangerous to Players, Should We Be Watching It?

Should the Private Lives of Famous People Be Off Limits?

Do Great Leaders Have to Be Outgoing?

Should Students Be Able to Grade Their Teachers?

Should Middle School Students Be Drug Tested?

Should the Government Limit the Size of Sugary Drinks?

Should Schools Put Tracking Devices in Students' I.D. Cards?

Do You Think a Healthier School Lunch Program Is a Lost Cause?

How Much Pressure Do Boys Face to Have the Perfect Body?

How, and by Whom, Should Children Be Taught Appropriate Behavior?

What Current Musicians Do You Think Will Stand the Test of Time?

How Concerned Are You About Climate Change?

Are Digital Photographs Too Plentiful to Be Meaningful?

Do You Think a Longer School Calendar Is a Good Idea?

Should Engineers Pay Less for College Than English Majors?

Should You Care About the Health and Safety of Those Making Your Clothing?

How Should We Prevent Future Mass Shootings?

Does Reality TV Promote Dangerous Stereotypes?

Is Dating a Thing of the Past?

Would You Feel Safer With Armed Guards Patrolling Your School?

Should Women Be Allowed to Fight on the Front Lines Alongside Men?

Have Curse Words Become So Common They Have Lost Their Shock Value?

Is School Designed More for Girls Than Boys?

What Makes a Good Commercial?

Do Violent Video Games Make People More Violent in Real Life?

Should All Children Be Able to Go to Preschool?

Can Graffiti Ever Be Considered Art?

Should Reading and Math Be Taught in Gym Class Too?

Where Should Colleges and Sports Teams Draw the Line in Selling Naming Rights?

Would You Rather Work From Home or in an Office?

Should Students Be Allowed to Skip Senior Year of High School?

How Many Text Messages Are Too Many?

Does Buying and Accumulating More and More Stuff Make Us Happier?

Do You Think Life Exists — or Has Ever Existed — Somewhere Besides Earth?

Should Computer Games Be Used for Classroom Instruction?

Do You Think Child Stars Have It Rough?

How Important Do You Think It Is to Marry Someone With the Same Religion?

How Would You Feel About a Computer Grading Your Essays?

Should There Be Stricter Rules About How Coaches Treat Their Players?

Should Colleges Fund Wellness Programs Instead of Sports?

Why Aren't There More Girls in Leadership Roles?

Do Bystanders Have a Responsibility to Intervene When There is Trouble?

When Should You Be Able to Buy Cigarettes, Drink Alcohol, Vote, Drive and Fight in Wars?

Is Prom Worth It?

Do People Complain Too Much?

Would You Want a Pair of Google's Computer Glasses?

Should What You Say on Facebook Be Grounds for Getting Fired?

Should Children Be Allowed to Wear Whatever They Want?

Should Marijuana Be Legal?

What Role Will Robots Play in Our Future?

Is Drinking and Driving Still a Problem for Teenagers?

Would You Want a Bike Share Program for Your Community

What Do You Think of Grouping Students by Ability in School

How Would the Presidential Campaigns Change if the Voting Age Were 13?

What Are You Looking Forward To, or Dreading, This School Year?

How Competitive Are You?

What Music Inspires You?

When Have You Ever Succeeded When You Thought You Might Fail?

What 'Back-to-the-Land' Skills Do You Have, or Wish You Had?

Would You Ever Go Through Hazing to Be Part of a Group?

Is Trying Too Hard to Be Happy Making You Sad?

What Are Your Sleep Habits?

What Experiences Have You Had With Gender Bias in School?

How Did You Start Doing Something You Love?

To What Company Would You Write a Letter of Complaint or Admiration?

What Words or Phrases Do You Think Are Overused?

Do You Perform Better When You're Competing or When You're Collaborating?

Do You Ever 'Mix It Up' and Socialize With Different People at School?

What Are the Most Memorable Meals You've Ever Had?

What Magazines Do You Read, and How Do You Read Them?

Have You Ever Changed a Family Member's Mind?

What Are the Best Souvenirs You've Ever Collected While Traveling?

Do You Like Scary Movies and Books?

What Are Your Experiences With Severe Weather?

Has Anyone Ever Said That You Look Like Someone Famous?

How Do You Help?

Are You Distracted by Technology?

When Have You Spoken Out About Something You Felt Had to Change?

Is Your Bedroom a Nightmare?

Who Are the 'Characters' That Make Your Town Interesting?

How Would Your Life Be Different If You Had Better Listening Skills?

How Often Do You Cry?

With Your Home in Danger, What Would You Try to Save?

How Careful Are You Online?

Have You Ever Been Scammed?

Do You Sometimes 'Hide' Behind Irony?

What Would You Invent to Make the World a Better Place?

How Well Do You Get Along With Your Siblings?

How Much Can People Change?

What's Your Karaoke Song?

How Do You Make Parenting Difficult for Your Parents?

Have You Ever Been in Love?

When Have You Seen Yourself and Your Life Reflected in a Book or Other Media?

What Are Your Tips for Enjoying the Holiday Season?

How Stressed Are You?

What Will You Remember Most From 2017?

How Will You Spend the Holiday Break?

What Are Your Hopes for 2018?

When Has a Teacher Inspired You?

What Will People Wear at Costume Parties Celebrating the 2000s?

How Often Do You Leave Your 'Comfort Zone'?

Do Adults Who Are 'Only Trying to Help' Sometimes Make Things Worse?

What Were the Best Movies You Saw in 2017?

Does Facebook Ever Make You Feel Bad?

What Have Your Parents Taught You About Money?

If You Could Go Anywhere, Where Would You Want to Travel?

Would You Want to Grow Up in the Public Eye?

What Do You Do When You Encounter Obstacles to Success?

Was There a Toy You Wanted as a Child But Never Got?

How Do You Fight the Winter Blues?

What Tech Tools Play the Biggest Role in Your Life?

How Well Do You Know Your Pet?

Does Being a Fan Help Define Who You Are?

What's the Most Memorable Thing You Ever Got in the Mail?

What Food Would You Like to Judge in a Taste-Off?

Does Your Life Leave You Enough Time to Relax?

What Are Your Predictions for and Reactions to the State of the Union Address?

Read Any Good Books Lately?

Have You Ever Found Something Valuable?

What Investment Are You Willing to Make to Get Your Dream Job?

What Would You Wait in Line For?

What Are Your Favorite Viral Videos?

How Good is Your Grammar?

What's the Most Impressive Sports Moment You've Seen?

Have You Ever Taken Something You Weren't Supposed To?

What Was Your Most Precious Childhood Possession?

How Much Do You Know About Your Family's History?

Do You Ever Feel Guilty About What, or How Much, You Throw Away?

What Makes You Happy?

What Would Your Fantasy Spring Break Be Like?

What Are Your Sources for Information About Colleges and Universities?

What's the Coolest Thing You've Ever Seen in Nature?

How Does Your School Deal With Students Who Misbehave?

Do You Ever Seek Advice on the Internet?

What Would Your Ideal Summer Camp Be Like?

Do You Spend Too Much Time Preparing for Standardized Tests?

Where Do You Want to Go to College?

Would You Ever Consider Getting a Tattoo?

What Six People, Living or Dead, Would You Invite to Dinner?

What Would You Teach the World in an Online Video?

What Were Your Favorite Picture Books When You Were Little?

Have You Ever Felt Embarrassed by Things You Used to Like?

How Do You React When Provoked?

What Kind of 'Little Free Library' Would You Create for Your Community?

Do You Have Helicopter Parents?

When Has a Sports Team Most Disappointed You?

How Important Is Driving to You?

What Would Your Dream Home Be Like?

Do You Wish You Could Return to Moments From Your Past?

How Much Slang Do You Use? What Are Your Favorite Words?

Do You Plan on Saving Any of Your Belongings for the Future?

What Old Television Shows Would You Bring Back?

How Careful Are You in the Sun?

Do You Enjoy Reading Tabloid Gossip?

What Are Your Favorite Names?

What's on Your Summer Reading List?

What Are You Listening To?

How Do You React to Strangers Having Private Conversations in Public?

What Are the Most Important Innovations of the Last 50 Years?

Have You Ever Stumbled Upon a Cool Public Performance?