Holiday meals donated to veterans in Monroe County
December 7, 2018
Many of America's veterans have sacrificed their physical and mental health for the well being of this country. Unfortunately, for some, when they return home, they do not have the finances to feed themselves and their families.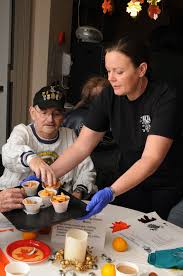 To support local veterans who are struggling with food insecurity, Paul's House is offering traditional housing facilities and public food donations for veterans in Monroe Country.
Paul's House is a converted hotel that now is a traditional housing facility to help veterans readjust to society. Every year, Paul's house collects meals donated for Easter, Thanksgiving, and Christmas. However, the meals aren't for the guests living in the traditional housing facility. Instead, the meals are for local veterans residing in Monroe County. 
When members graduate from the traditional housing program, they get added onto Paul's list of those receiving food holiday meals. As of Monday, Paul House collected meals from local restaurants, diners, churches, organizations, and residents donate meals for over 140 veterans and their families. 
"They (veterans) don't need to worry about putting a Christmas meal on the table. It takes stress off of their shoulders and allows them to worry less during the holidays," said Ms. Sandy Spotts, the event organizer.
Community volunteers deliver perishable and non-perishable donation items to struggling veterans on Thanksgiving, Christmas, and Easter.
"I can't even begin to think of how many hours are put into this event," said Spotts. "For me it's a constant year-round job, getting volunteers and organizing everything, but it definitely gets busier during the holidays that this is held. It feels very rewarding when you get all the calls from people who received the donations thanking you for what you've done."