SHS graduate brings home away from home to people in the Poconos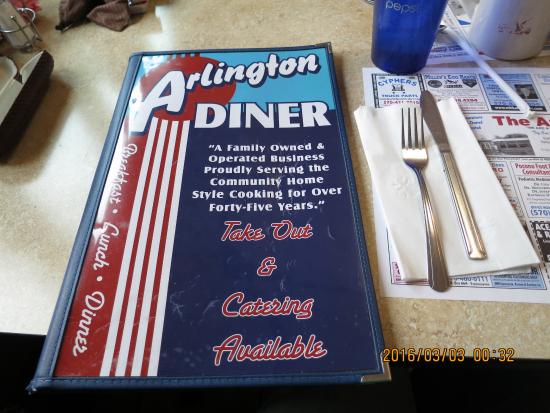 "The restaurant business has always been inside of me, and it's something that I'm crazy enough to love," said Mr. George Halas, third generation owner of the Arlington Diner, located at 834 North Ninth Street in Stroudsburg, PA. 
Meanwhile, a waitress squeezes by George to get a cup of hot tea with cinnamon for Larry, one of the diner's regulars. A baby cries from the dining room, dishes clank from the kitchen, and a child stands at the register waiting for a free lollipop. The radio plays Billy Joel's Piano Man and a busser stacks cups. This place is like a crowded family room.
"I love working at the diner because I feel like it's home for me," said Erinni Binikos, an employee at the Arlington. "It's a very family oriented environment, which is why I continue to work there." 
George, a 1996, SHS graduate, went on to pursue a degree in history education at Penn State University. Little did he know, fate, as well as food, had other plans for him.
"I started peeling potatoes at age six," said George, chuckling. "The first time I washed dishes I was eight years old and I would turn a milk crate upside down so that I could reach the dishwashing station. I used to take naps on boxes of napkins."
George grew up in the diner's kitchen with his parents, Michael and Irene Halas. He began learning the trade of his family and knew from a small child that he would be dedicated to the diner.
"Through my father's example, I've learned to work hard, be humble, and laugh," said George. "He also taught me to slay on the dance floor and drink an entire bottle of Ouzo in one night when necessary."
Behind the grill, George himself stands in a white apron whisking eggs and packing meat on the diner's famous Manwich, a massive breakfast sandwich. Cornbread sizzles on the grill, the smell of warm apple pie fills the air, and the scent of bacon slides across the room.
"As far as a restaurant is concerned, we make most of our products fresh and in house," said George. "We still do old school butchering and we make all sauces and soups from scratch."
Patrons of the Arlington love to keep coming back, and they often bring their families with them.
"My son always begs me to stop at the diner when we go to Kalahari," said Jose Arenas, a happy, satisfied customer. "Afterwards, we go burn off all the calories at the arcade."
From breakfast to dinner, people come to eat great food and spend time with good people. The menu contains a wide variety of food from Belgium waffles, omelettes, and club sandwiches, all the way to tender, homemade pot roast.
"I come here because my wife doesn't cook." said Mr. Jack Lesoine. He and his wife Linda come every day and one of Linda's favorites is the chicken parmesan.
SHS senior Helana Hunter joyously shared her thoughts about the diner: "The mac and cheese is great, the people are nice, and the portion sizes are generous."
The Arlington Diner is a great place to bring your family and friends for an affordable meal. Many high schoolers come here to unwind and many older folks come here to get out of the house. If you're ever in Stroudsburg, stop by and experience it for yourself.