The Acceptance Project hosts first meeting this Thursday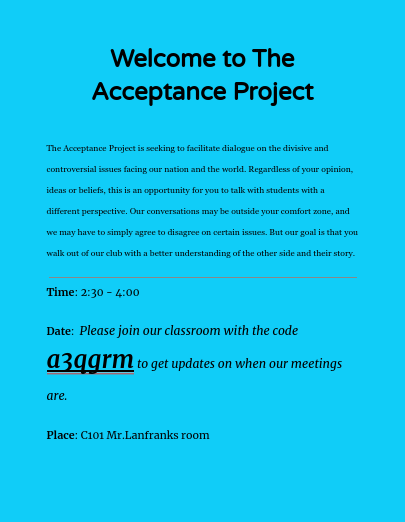 The Acceptance Project will be hosting its first meeting of the year on Thursday from 2:30-4:00 in Room C101.
The mission statement of The Acceptance Project is "To create the mediators of TOMORROW to continue the conversations of TODAY."
The Acceptance Project seeks to facilitate dialogue on the controversial and prevalent issues facing our nation and world today. No matter where one stands on issues such as abortion, freedom of religion, or privilege he or she is welcome to come to a meeting and discuss opinions and thoughts.
Since the creation of The Acceptance Project in 2017, members have been regularly attending meetings in the Stroudsburg Junior High School, as well as at Stroudsburg High School. 
"I joined the Acceptance Project in 9th grade and it's really given me an opportunity to develop my own opinions and beliefs while being able to listen to others, no matter how much I may disagree with them," said junior Olivia DeRosa. 
For more information about The Acceptance Project contact Taha Vahanvaty at [email protected] or join the club's Google Classroom (Code: a3qgrm). The sign up sheet has also been attached below. 
https://docs.google.com/document/d/1nEmbYe-X-ghjoSf9KUdHm7XZgQd29vHFB6wg9nfDqPI/edit?usp=sharing