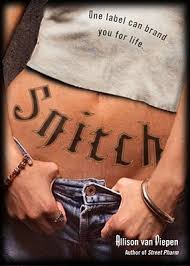 Featured book: Snitch, Recommended by: Allison Van Diepen
Title: Snitch
Reviewer: Jahniya McMichael
Author: Allison Van Diepen
Genre: Realistic Fiction
Call Number:  FIC  VAN
Plot:
Julia and her group of friends have always avoided trouble from the gangs of her tough school in Brooklyn. But that all changes when she meets Eric whom she quickly falls in love with. She thinks he is different from the other boys and won't fall into the hands of the gangs. But Julia is proven wrong. Julia makes a big mistake and follows after her boyfriend. Throughout the book she quickly learns the rules of the streets, and who her "real" friends are. She starts to enjoy the gang life, but what goes up must go down. Eric reveals a shocking twisted secret that leaves him and Julia's life in danger. Eric and Julia decide they must do whatever they can to save themselves, but they will always love each other and be there for one another.
The most interesting or exciting moments:
Reading about Julia's feelings for Eric was exciting because you get to see how her love for him determines her choices. She makes very interesting ones when she chooses to do something out of her comfort zone and never changed her feelings and character. She was the same person in a bad situation just as she was in a good situation. 
Why I think others will enjoy this book:
The genre so many people love that type of fiction because you can almost always relate to it especially teenagers.

The characters you easily fall in love with the characters and you never want the book to end.