SHS seniors inspired to start a hiking club
New club is open to all students
This spring, a new club will embark right here at SHS. Led by senior president Thomas Mathiesen and science teacher and adviser Mr. David Hakim, the Hiking Club will provide students with an opportunity to engage themselves with nature and get some fresh air. 
Mathiesen, an avid hiker himself, has spent hours exploring trails since the start of the pandemic. He hopes his passion for the outdoors will lead others to find the same passion in nature.
"I do love hiking," said Mathiesen. "During the pandemic, hiking has been one of the best things that I've done." "I never spent any time indoors when there was daylight during the pandemic. I was mostly with my dog and with my friends. It is really a great escape."
There are plenty of trails located all around the Poconos. Some specific trails that the club plans to hike on are the Pinebrook trails, which are part of the Levee Loop trail system, and the McDade Trail, which is part of the Delaware Water Gap Nation Recreation Area (DWGNRA).  The McDade trail is a personal favorite of Mathiesen's.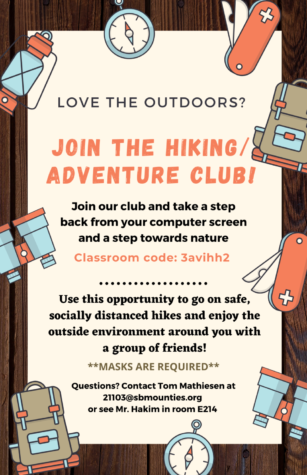 Hakim has a reputation as an adventurous outdoorsman. He looks forward to spending time with students outside of the classroom this spring. In the fall, he can be found outside helping coach the girls varsity soccer team.  This new club will allow him to enjoy getting outside with students in a fresh, new way.
"I spend a lot of my time going on adventures," said Hakim. "Every year my family goes to Maine, and we go hiking up there. It's hard for me to sit inside too much."
Other officers for the club are vice president Jasmyn Sanchez 21', social media adviser Isabella Contino 21', and secretary Taha Vahanvaty 21'. The leaders have their sights set on hiking, of course, but they also have some more plans for the community.
The Hiking Club is currently planning on making birdhouses around Stroudsburg to help the wildlife. The club doesn't want to stray too far away from the original plan of hiking, but this is an idea that they are hoping to pursue when the club is up and running.
As the pandemic continues to limit the amount of physical activity individuals are getting, the Hiking Club looks to fill that void. Whether a student is looking to try something new or continue a passion, this new club may very well serve that role.
"It's easy to get stuck inside looking at phones or watching Netflix," said Hakim. "Having a reason to get outside with some friends in a safe setting is definitely going to be beneficial for people."
There are many sites and trails to visit in the Poconos. As the community warms up and the snow melts, the Hiking Club will be there to help students enjoy nature.
"I am really looking forward to just experiencing and showing others the beauty of nature," said Mathiesen. "I'm definitely excited for spring to come back and for the birds to be chirping while we're walking. Being outside is just so great."
More information regarding upcoming meetings, hikes, and joining the club will be posted on the club's Google Classroom. 
To join, use the classroom code: 3avihh2
For more information about the McDade Trail, visit:
https://www.nps.gov/dewa/planyourvisit/mcdade-recreational-trail.htm
For more information about the Levee Loop Trail, visit:
http://trails.dcnr.pa.gov/trails/trail/trailview?trailkey=228