American Muslims make their mark on U.S. culture
There are several prominent Muslims in the United States. Comedians and representatives, activists and Olympians, fashionistas and revolutionary fighters, converts, and supporters are among them. They are the descendants of African-Americans and refugees who have lived in this country for hundreds of years. The following are five recent prominent American Muslims and what they have meant to the history of the United States of America.
#1 G. Willow Wilson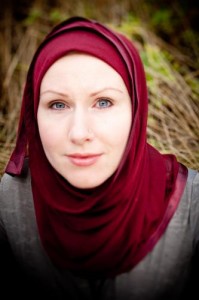 Wilson is a comics artist, prose author, essayist, and journalist from the United States. Cairo, her first graphic novel, was written by DC Vertigo and was her first accomplishment. Her first comic book, Air, was also released by DC Vertigo and was nominated for an Eisner Award for 'Best New Series.' She worked on well-known comic book shows including Superman, The X-Men, and Wonder Woman. Alif the Unseen and The Bird King are two critically acclaimed novels she wrote and wrote. In 2014, Marvel released a new Ms. Marvel series written by Wilson. Kamala Khan is a Muslim teen with shapeshifting abilities who lives in Jersey City, New Jersey. Ms. Marvel is currently being produced into a television series, which will debut in late 2021 or early 2022. Kamala Khan will be Marvel's first Muslim character onscreen.
Below is a link of G. Willow Wilson on TEDx Talks and the Official Teaser Trailer for Ms. Marvel:
TEDx Talk
https://www.youtube.com/watch?v=piWo4200G0U
Official Teaser Trailer for Ms. Marvel
https://www.youtube.com/watch?v=quWvXMqyq6I
#2 Hasan Minhaj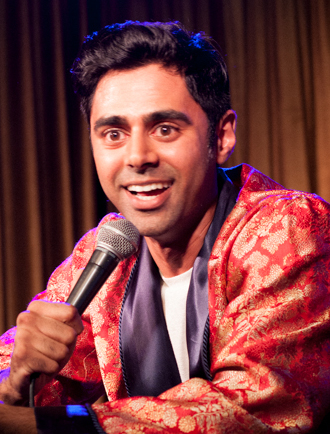 Hasan Minhaj is an actor, comedian, author, producer, political commentator, and television host from the United States. Minhaj has appeared in guest roles on several TV shows, including Catastrophe Date, Arrested Growth, Champions, and many others. On The Daily Show, he was also a senior correspondent. Later, he started his first stand-up comedy special, Homecoming King, which won a Peabody Award.
Minhaj appeared at the 2017 White House Correspondents' Dinner, where he played the typical role of criticizing national politics, current affairs, the running president, the Washington press corps, and the American media. In 2018, he also released the Patriot Act, a new Netflix comedy series that examines the contemporary cultural and political world every week. Each week, Minhaj utilizes his distinct comedic voice and storytelling abilities to look at the broader trends that are affecting our fractured world. He is currently seen on The Morning Show in a supporting capacity.
Below is a link to Hasan Minhaj on The Daily Show:
https://www.youtube.com/watch?v=3-0-81q-fGo
#3 State Representative Ilhan Omar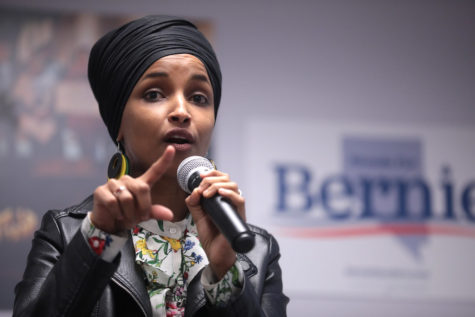 Ilhan Omar is a Somali-American politician who was elected to the United States House of Representatives in the 5th congressional district of Minnesota in 2019. She became the first Somali-American and the first woman of color to be elected to the United States Congress with this victory. Along with former Michigan state senator Rashida Tlaib, she is a representative from Minnesota and one of the first Muslim women elected to Congress. In 2016, she was elected to the Minnesota House of Representatives on the Democratic-Farmer-Labor (DFL) ticket. She has campaigned for a minimum wage, affordable housing, and welfare as a member of the Congressional Progressive Caucus. She opposes the Trump administration's immigration policy and is an ardent supporter of the DACA initiative.
Below is a link to Ilhan Omar on The Daily Show: https://www.youtube.com/watch?v=b5gtpWg5-Ns
#4 Ibtihaj Muhammad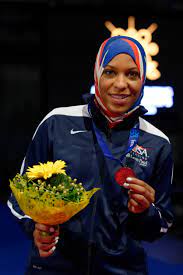 Ibtihaj Muhammad is a fencing Olympic medalist, entrepreneur, activist, and speaker. Muhammad is a five-time Senior World medalist and World Champion, as well as a 2016 Olympic bronze medalist. Ibtihaj made history by becoming the first American woman to participate in the Olympics while wearing a hijab. Ibtihaj was a three-time All-American at Duke University, where she majored in International Affairs and African Studies. Ibtihaj founded Louella, a clothing line aimed at bringing modest, trendy, and affordable clothing to the American market. Mattel unveiled their first hijabi Barbie, modeled after Ibtihaj. PROUD: My Fight for an Impossible American Dream, Ibtihaj's debut memoir, was also published. Ibtihaj published her first children's novel, The Proudest Blue: A Story of Hijab and Family, in 2019, and it became a New York Times Best Seller almost immediately.
Ibtihaj is a sports ambassador for the United States Department of State's Empowering Women and Girls through Sports Program, and President Barack Obama appointed her to serve on the President's Council on Fitness, Wellness, and Nutrition. Ibtihaj is a central figure in a wider global dialogue about inclusion and the meaning of sport, and her voice continues to unite both sports and non-sports people.
Below is the link to Ibtihaj Muhammad on the Ellen Show: https://www.youtube.com/watch?v=pg4qpdcmBA0
#5 Imam Omar Suleiman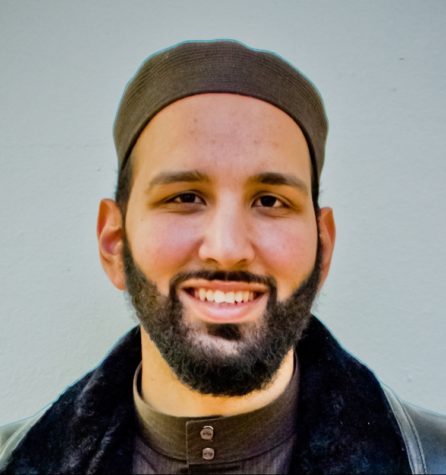 Omar Suleiman is a Muslim scholar, civil rights activist, blogger, and speaker from the United States. He is the President and Founder of the Yaqeen Center for Islamic Research, as well as an Islamic Studies Professor at Southern Methodist University. CNN, USA Today, The Guardian, HuffPost, and The Dallas Morning News, among other publications, have published his opinion articles.
Suleiman was the Imam of the Jefferson Muslim Association in New Orleans for six years and led the Hurricane Katrina relief effort "Muslims for Humanity." He co-founded the East Jefferson Interfaith Clergy Association and was honored by the Mayor and City Council of New Orleans for his exemplary civic achievement.
Suleiman has worked on many political issues, including social justice organizing and activism. He joined protesters in Dallas to protest the shootings of Alton Sterling and Philando Castile, which culminated in the deaths of five African American police officers. In the aftermath of the attack, President Barack Obama and former First Lady Michelle Obama were asked to lead the invocation at a memorial service for the slain officers.
He is currently the Resident Scholar at the Valley Ranch Islamic Center and the Emeritus Co-Chair of Faith Forward Dallas at ThanksGiving Square, a multi-faith clergy alliance for peace and justice.
Below is the link of Imam Omar Suleiman at an Interfaith Memorial Service with was attended by President Barack Obama :
https://www.youtube.com/watch?v=Z0h74PhSDqw
Rami Nashashibi, Dr. Mehmet Oz, Nailah Lymus, Rep. Keith E. llison, Dean Obeidallah, and a long list of other prominent American Muslims are among them. They form one of the world's most vibrant and forward-thinking Muslim cultures.
Information gathered from:
https://www.ibtihajmuhammad.com/
https://yaqeeninstitute.org/team/omar-suleiman
http://www.gwillowwilson.com/
https://omar.house.gov/about
https://www.elitedaily.com/entertainment/celebrity/hasan-minhaj-white-house-correspondents-dinner/1888052
Leave a Comment