Student Spotlight on Sanai Castle
What are your plans after graduation?
After high school, I plan to attend college for early childhood education or elementary school education, hopefully at Drexel University. 
What activities or hobbies do you enjoy outside of school?
Outside of school, I love to read, bike ride, go hiking, and hang out with my closest friends.  
What qualities do you value in people who you spend time with?
Qualities that I value in people around me are honesty and the ability to take a joke. I think being honest is one of the most important things in life. If you can't tell the truth about the simplest of things, I don't think a relationship can be built trust-wise. I think the ability to laugh and make jokes is important because I love to have fun. 
What is your greatest weakness?
My greatest weakness is self-confidence. I don't trust myself as much as I probably should and I don't put myself out enough. 
What movie can you watch over and over without ever getting tired of?       
I could watch Cruella over and over and OVER again without getting bored. It is one of the best movies I have seen in a long time. 
What social stigma does society need to get over?
There are MANY different social stigmas that the world needs to move away from, but the biggest one I notice, especially during school, is about the LGBTQ+ community. Members of the LGBTQ+ community are constantly being picked on and discriminated against. Whether it is saying homophobic slurs or not calling people by their preferred pronouns, it all needs to stop. Members of this community are human too and should be treated with the same amount of respect as anyone else.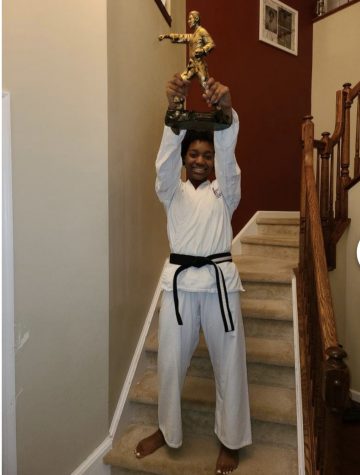 Which countries/places would you like to travel to? 
I really would love to visit Hawaii, Paris, Trinidad and Tobago. I went to Trinidad when I was about 3 or 4 years old so I don't remember much. Most of my family is from Trinidad and Tobago so I would love to go again. 
What is your greatest accomplishment so far?
My greatest accomplishment so far is receiving my black belt in karate. I have been studying Isshin-Ryu karate for about 10 years now, and getting my black belt was a great way to reflect on all of that hard work and dedication. 
If there is one thing you could change in the world, what would it be?
If I could change one thing in the world, it would be to legalize free healthcare everywhere ( this includes medicines, menstrual products, eye care, and hospital visits).
Who are your favorite teachers and why?
My favorite teachers in the school are Mr. Pfeiffer, Mrs. Verwey, and Mrs. Rogers. I thoroughly enjoy all of your classes and I can tell that you all mean the best for your students.