Stroudsburg boys soccer stuns the Cavaliers!
On Monday evening, the Stroudsburg varsity boys soccer team defeated East Stroudsburg South High School. 
Despite it being South's Senior Night, the Mountaineers managed to outplay the Cavaliers, and are now on the way to qualify for districts. 
The game was 0-0 until the last 10 minutes of the first half. Stroudsburg goalie Paul Alejandro, a junior, was struck in the head, suffering a game-ending injury. Freshman Oliver Marga was put in to replace Alejandro. Immediately after, South's Tobi Golab scored the first goal of the game on a free-kick, ending the half with a score of 0-1. 
After halftime, the Mountaineers began the game with a great deal of intensity. Freshman Ben Piltcher was put in goal, and was a key player in the victory for the Mounties. Shortly after the beginning of the second half, Senior Emilio Merino scored an amazing goal off a corner kick by sophomore Logan Weitzmann. With the score tied 1-1, the Mounties continued to apply pressure.
With less than 15 minutes left, and the Stroudsburg student section getting hype, sophomore Juan Merino, brother to Emilio, scored another goal for Stroudsburg off of a corner kick, also assisted by Weiztmann. This led the team to victory with a score of 2-1.  It was a fantastic game to remember for the boys soccer team. 
"The boys are fighting for their lives right now and they put on an incredible display of heart tonight," said head Coach James Beebe. "We had a lot to prove to ourselves after losing to South at home a couple weeks ago, and the boys were determined not to let that happen again. I could see it in their eyes and hear it in their voices for the past few days leading up to tonight."
Beebe was especially excited for the Merino brothers.
"The best part for me was to see brothers Emilio and Juan Merino score both goals tonight in front of their dad who was watching his first game of the season in the stands," said Beebe.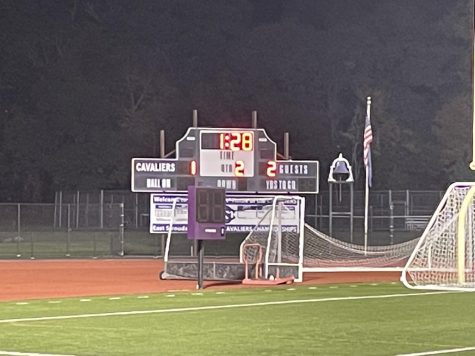 The team captains Emilio Merino and juniors Raphael Pessoa and Nick Milonas played a huge role in guiding the Mounties to the win.
Congratulations to the team. Come support them against Pleasant Valley this Wednesday, October 13 on Stroudsburg's home turf!