SHS club Aevidum committed to helping teens address mental health concerns
Blockbuster movie musical, Dear Evan Hansen, tackles the recent teen mental illness epidemic.
September 13, 2022
One in five American teenagers between the ages of 12 and 18 suffer from a mental illness.
Suicide is the second leading cause of death for this same age group. 
At SHS, there is a group trying to do something about these startling statistics.
The word aevidum means "I've got your back" in Latin. A Pennsylvania-based suicide prevention and mental health awareness organization with the same name is working hard to break the stigma surrounding mental health, as well as ensuring that teenagers know they are never alone in their battles with sadness, stress, and mental illness.
The organization's philosophy is as follows: "We strive to create healthy communities where everyone feels accepted, appreciated, cared for, and acknowledged. Most people have some connection to mental illness, depression, and suicide, and we can make a difference."  This statement can be found at www.aevidum.com.
"
Seeing members of Aevidum open up their hearts and share their stories is an amazing experience.
— Mindy Tkach
Aevidum was founded in 2003 after Phil Cardin, a student at Cocalico High School in Lancaster, Pennsylvania, committed suicide. After his passing, students, teachers, staff, and faculty came up with the idea of Aevidum. They would not remain silent on the stigmatized issues of depression, mental illness, and suicide any longer. 
What started out as a small group of people from a high school community shattered by suicide has since grown tremendously, with locations in grade schools, high schools, and colleges all throughout the state of Pennsylvania and beyond. So what led up to Aevidum's arrival at SHS?
Aevidum was introduced to the Poconos by a man named Jim Presto, who lost his son, Josh, to a drug overdose in 2014. He presented Aevidum and its mission to a large group of mental health and crisis workers, government representatives, and school officials.
In 2016, the Stroudsburg Area School District suffered a tragic loss when a freshman at Stroudsburg Junior High School took his own life. When the good friends and classmates of the late student arrived at SHS, it became clear to the staff and the administrators that these students were struggling to cope with what had happened. 
Inspired by Presto, SHS vice principal Mr. Tom Burke, and others wanted to bring Aevidum to SHS as a way to help these students cope with their tremendous loss. With Ms. Mindy Tkach as its new adviser, the SHS chapter of Aevidum was able to take off. Tkach credits the club's past and current success to "a student who was best friends with the student who committed suicide." He was the driving force behind the club as it was beginning to establish itself at SHS.
Tkach, who is still serving as an adviser five years later, along with Ms. Jennifer Laskowski, shared what the most beautiful moments of leading Aevidum have looked like to her.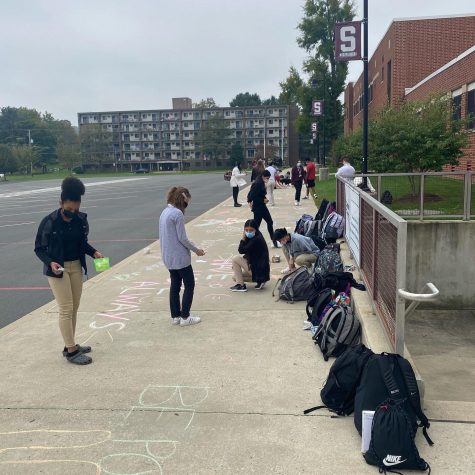 "Aevidum hosts many events throughout the year, such as lock-ins and TALK Workshops," said Tkach. "Seeing members of Aevidum open up their hearts and share their stories is an amazing experience."
Tkach is proud to lead Aevidum and is a very strong believer in its message. "Students need an outlet. They need to feel safe and accepted, and have a place where they can openly talk about stigmatized subjects, such as mental illness and suicide."
As society continues to see an increase in teenage anxiety, depression, and suicide rates, clubs like Aevidum have become an essential place of refuge for teens who may be struggling.
Senior Aubrey Connors is a member of Aevidum.  She explained why the club means so much to her. "Aevidum has offered me a safe place at school."
The stigmas surrounding mental illness and suicide have proven to have had an extremely negative impact on students. Connors believes that starting this conversation is a huge step in the right direction. "It is important to start this conversation [on mental health] because many people, even those you may not know very well, can be struggling with the same things that you may struggle with."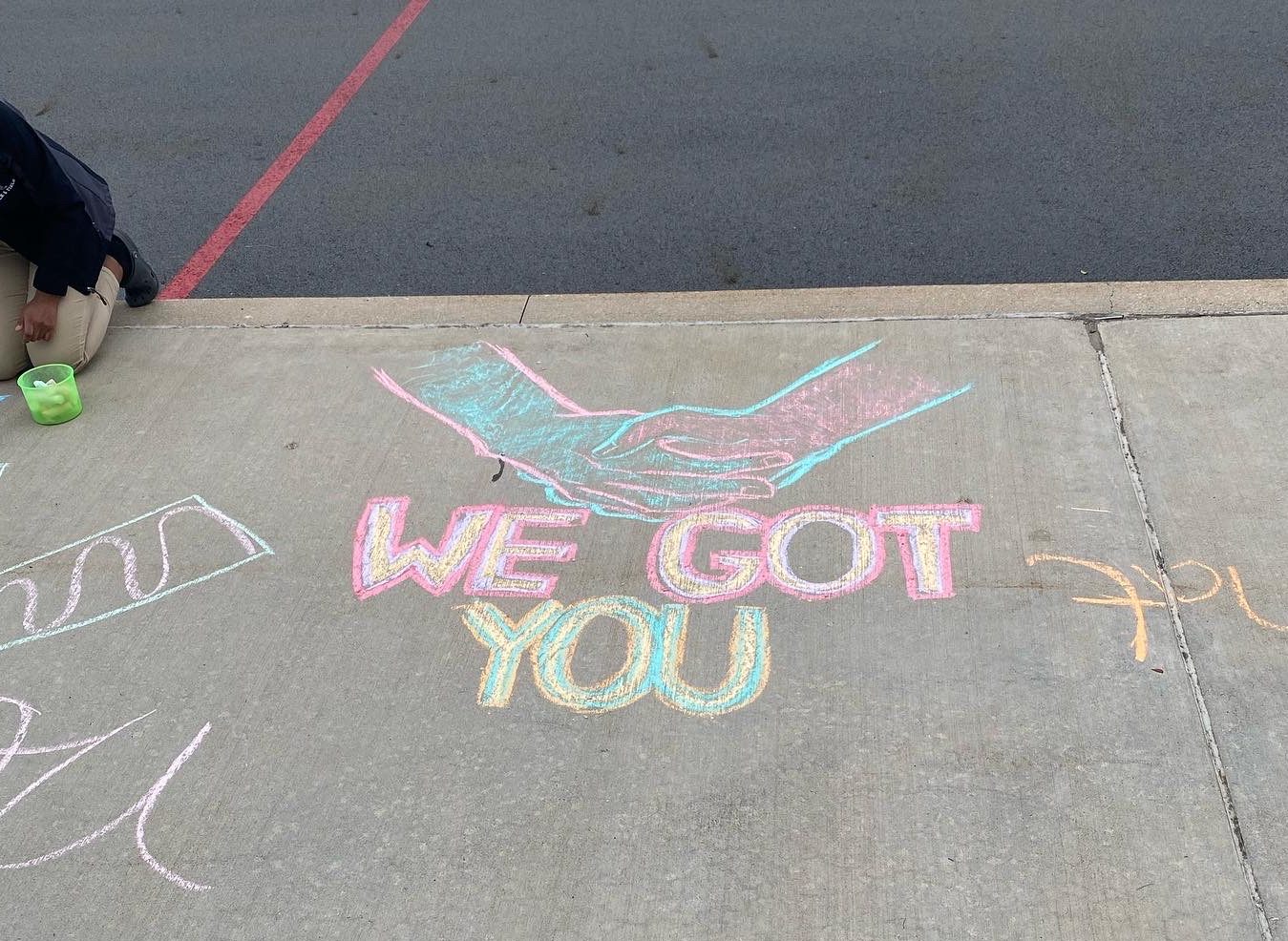 Aevidum's themes are the focus of "Dear Evan Hansen"
Interestingly, the themes and issues dealt with in Aevidum are at the forefront in a new movie adaptation of the Broadway musical "Dear Evan Hansen."
Dear Evan Hansen is a Broadway musical turned blockbuster movie that follows the story and seemingly inevitable plight of socially anxious teen, Evan Hansen. After the tragic death of his classmate, Connor Murphy, Evan finds himself tangled up in a web of his own lies, and is forced to grapple with Connor's death, as well as his own struggles with mental illness.
Dear Evan Hansen's most famous song, "You Will Be Found" comes packed full of deeply resonating and meaningful lyrics such as "Have you ever felt like nobody was there? Have you ever felt forgotten in the middle of nowhere? Have you ever felt like you could disappear? Like you could fall, and no one would hear?" and "There's a place where we don't have to feel unknown, and every time that you call out you're a little less alone. If you only say the word from across the silence, your voice is heard." 
Lyrics like these have inspired teenagers across the globe to continue pushing forward because they are loved, they are heard, and most importantly- they are not alone.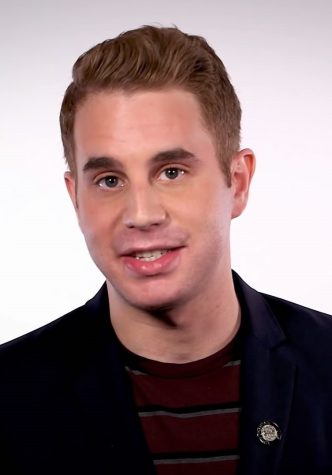 After Connor takes his own life, students Evan,  Alana,  Jared, and others at Connor's high school start an initiative called 'The Connor Project.' This initiative was started as a way to help keep Connor's memory alive and to let students know that they are not alone in their struggles with mental illness. There are obviously huge parallels that can be drawn between The Connor Project and Aevidum. Aevidum didn't have Connor Murphy, but they had Phil Cardin.
Fictional or not, our school community and the students in Dear Evan Hansen felt the same heartbreak that drove them to change the things around them for the better. Mental illness and suicide are not things that should be kept in the dark. The Connor Project did their part to break the stigma after their classmate died, and SHS Aevidum did and is continuing to do the same.
SHS Alum, former Aevidum member, and musical theatre enthusiast Johanna Gelbs touched on why talking about the issues tackled in both Aevidum and Dear Evan Hansen is so important. "Aevidum has changed my life!", said Gelbs. "Speaking about mental health and having a universal understanding that emotions swell has been huge for me." 
When asked why she believed Dear Evan Hansen has become such a sweeping success, Gelbs stated that it's because "it's taking a serious subject matter and makes it 'brighter' with its use of colorful lighting and upbeat songs. It showed teens that it's okay to feel."
SHS Aevidum meets on the 1st and 3rd Wednesday of every month from 2:30-3:30 pm in the library. The code to join the Google Classroom is sgu2nae.
The Dear Evan Hansen Movie is now available on NBC's streaming service, Peacock, and is out on DVD. The Dear Evan Hansen Soundtrack is available on CD, and on all music streaming platforms.
The National Suicide Prevention Hotline is 988. To access the Crisis Text Line, text 'HELP' to 741741.