SHS has a new program coming to the school next year called SWPBIS!
SWPBIS will focus rewarding positive student behavior
A new program called SWPBIS is joining this school next school year to help improve academic, social, and emotional behavior for all students. 
SWPBIS stands for School-Wide Positive Behavioral Interventions and Supports.
 "We have behaviors here that can easily be changed so students aren't getting in trouble," said assistant principal Ms. Christine Gangaware.  She is one of the administrators that help run this program, along with Ms. Jamie Marra, Mr. George Angelopoulos, Ms. Kimberly Brown, Ms. Sarah Cepin, Ms. Jean Dunback-Costanzi, Ms. Karin Kraeutler, Mr. Anthony Lanfrank, Ms. Susan Miller, Ms. Maria SanMartin, Ms. Mindy Tkach, Ms. Debbie Weikert, and Ms. Nancy Wood.
Students in this program were chosen by the administration to be part of the team.   The following 29 students are participating: Jalani Allen, Kevin Bernard, Onyali Bernard, Zoe-Marie Brown, Nevaeh Byrd, Jalyssa Chambers, Kianys Cuevas, Edward Cunningham, Dashir Durant, Venus Ferguson, Danica Flores, Gunnar Gasper, Anthony Kande, Mateo Konklin, Anthony Liguori, Amiya Mann, Jack Nowosad, Andre Reams, Leilani Rivera, Nathaniel Salazar, Giovanni Silva, Mekhi Spencer, Xavier Stevenson, Jack Susinskas, Brooklyn Swen, Alyssa Vecchio, and Tymel Welcome.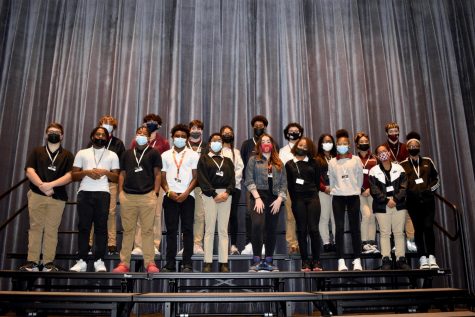 SWPBIS has a mission to promote growth, respect, and integrity. Stroudsburg High School is calling this program PRIDE, which stands for Positive Respective Inclusive Dependable and Empowered. 
The high school is not the only school participating in this program.  The junior high and the middle school are also on board.
There are even schools from other districts that are participating. They also want to help students perform better and practice responsible behavior on a regular basis.
Marra describes this program as, "What they should do vs. what they shouldn't do." 
Junior, Brooklyn Swen shared her input on the program. 
"I would say that the program has a very inclusive and positive atmosphere," said Swen. "The goal of the SWPBIS team is to promote integrity and create a positive and respectful environment inside and out of school. I think we are all most excited to work on some of our upcoming projects that will be shown to the school in the future." 
The goal of this program is to recognize and reward students who are consistently doing the right thing. Students will earn points to get different rewards and prizes each time they make a good decision or perform an act of kindness in school. SHS hopes to help students get excited about spreading acts of kindness and being more responsible in and outside of school. 
If anyone has any questions about this new program coming to the school next year you can contact Ms. Gangaware or Ms. Marra. 
Ms. Gangaware: [email protected]
Ms. Marra: [email protected]