Yearbook ready to "Play Back" the Memories!
Being able to relive old memories is a truly beautiful thing, especially when the memories are captured in photographs. By doing this, one can re-experience their past. 
This is why the Yearbook class focuses on bringing everyone's perspectives together to make one single masterpiece. The Yearbook class works to create the Pioneer, Stroudsburg High School's yearbook since 1934.
Every year the Pioneer chooses a new theme for its yearbook. This year the theme for the book will be music, specifically, the book will be called "Play it Back". 
The Pioneer staff believes that the school has a strong connection with music. The main idea behind the music-themed yearbook is that the tunes will bring the audience "back in time" to remember their experiences in high school. 
Making a yearbook is a tremendous task especially for a school of over 1000 students. By taking this class, students are made aware of how challenging it is to represent an entire school. The amount of work that goes into the class is substantial; however, the rewards can be equally as great. Being able to look at the finished product is truly satisfying. 
"The yearbook is important because it preserves history," said senior Rachel Bailey, editor-in-chief of the Pioneer. "It captures moments from our high school years that we can look back on."
Yearbook is an honors class that runs through the entire year. The staff begin their work in the fall and finish after the school year has ended. 
"
The yearbook is important because it preserves history
— Rachel Bailey
The dedication demonstrated by the staff is shown by the quality of the yearbook. Year after year, the club is able to produce top-notch publications. 
"Our goal is to best represent every single student of the building," said adviser Ms. Sarah Cepin. "We want to tell the story of everyone, not just one student's experience." 
Bailey emphasized the most important ingredient to becoming a successful staff.
"It takes a lot of teamwork more than anything." said Bailey, "One person wouldn't be able to create the entire yearbook alone."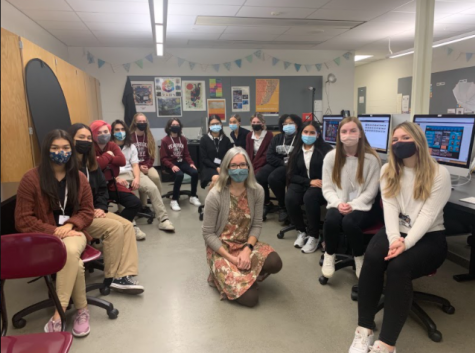 Students with an interest in multimedia, photography, and journalism are encouraged to enroll in this class. It is an exciting opportunity to put your creativity and skills to use. Registration for the class begins in the spring. 
There is also much to learn about templates, marketing, and more! Make sure to consider the class when course selection becomes available. 
Through teamwork, the staff is prepared to present yet another spectacular yearbook at the end of the school year. 
Sales are already up, so make sure to get a copy of this year's edition of the Pioneer before February 26! 
To access the order form, click here. 
Introducing the 2021-22 Pioneer yearbook staff:
Aylin Avci
Rachel Bailey
Ashton Bergamino
Hope Butler
Keyanna Chandler
Skye Franco
Dominique Latouche
Lieana Matos
Tylah Matos
Brielle McDonald
Helena Morehouse
Evelina Ogrodniczuk
Javilee Rodriguez
Danielle Simony
Chelsea Stackhouse
Danay Torres-Acosta
Leave a Comment