"Shrek The Musical" cast list announced!
After two difficult days of auditions, the results of the up-and-coming Shrek The Musical have been released. 
With junior Ethan Flanagan cast as lead character Shrek and senior Lauren Deemer as lead Fiona, the performers start preparing this week! 
"I'm really looking forward to this year," Flanagan says, "since it's the first musical back since the start of the pandemic, there is a different kind of excitement to it."
Stroudsburg's last show, The Drowsy Chaperone, was never performed because of Covid-19 and students have been eager to be back on the stage for the last two years.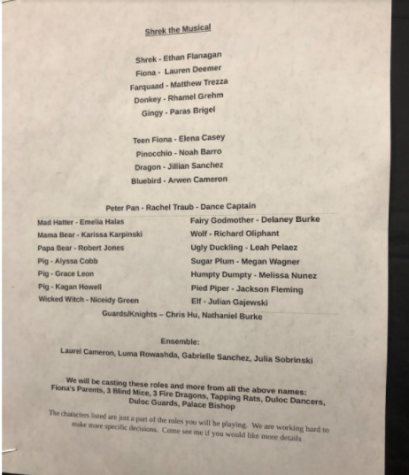 "One of the main challenges to Shrek is that everyone, including the ensemble, is a different character with many roles to play and costume changes," said Producer/Choreographer Ms. Billye Kubiak. 
Working aside Kubiak is Music Director Ms. Janice Lee and Director Mr. Max Kubiak.
This is Kubiak's 28th year of working on the musical at SHS.
The directors were determined to come up with an exciting, unusual choice to make this year just as special.
"We wanted to do something popular, fun, and that the audience would love," said Kubiak when asked why they had chosen Shrek.  
Everyone from the three little pigs to evil Lord Farquaad has a role and a voice. This is similar to all the preproduction people who help out, all their assistance and dedication making the project a reality. As Kubiak said, "The musical is a group project."
The rehearsals will start soon! The show will be on Friday, April 22, at 7:30 p.m., Saturday, April 23, at 7:30 p.m. and Sunday, April 24, at 2:00 p.m.
"Whether you are in the audience watching or part of the production, we all have one goal in mind…to enjoy ourselves"  Kubiak said. "We would like to thank Mr. Sodl, Mr. McGeehan, and the entire staff for their tremendous support," she added.
Congratulations to everyone in the cast and we hope to see you all there!