SHS junior bowls a perfect game: 300!
Stroudsburg's High School's very own Nate Verrella, a junior, recently achieved perhaps the greatest accomplishment in the world of bowling: he rolled a perfect 300. 
Verrella accomplished this feat in January at the SkyLanes Bowling Center in East Stroudsburg. He is the fourth youth bowler in Monroe county history ever to accomplish this feat. 
Coming off a bowling streak of 260 in game one of a 3-game series, Verrella bowled a 300 in game two. Verrella described this accomplishment as an "unreal feeling." 
Verrella's 300 was followed up with a 210. His three-game total was 770 – his best ever. His previous best 3-game series was 747.
Bowling a 300 means bowling 12 strikes in a row in only one game. All strikes to the 9th frame, and 3 in the tenth.
The chances of ever bowling a 300 are 460-1, according to golfdigest.com.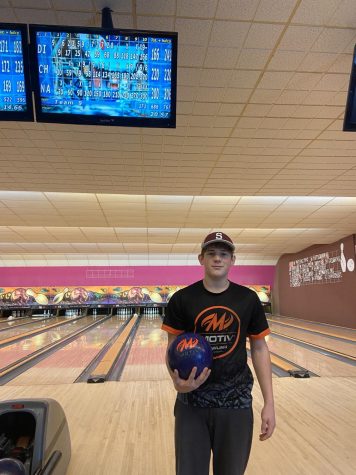 "The 300 is my biggest accomplishment because I told passed relatives that I'd do it for them," said Verrella. "Also, I get a big banner hung up in the bowling alley. I am also getting a 300 ring and a crystal pin."
Last year, Verrella's bowling average was 188. This year it has soared to 205.
Verrella never doubted his abilities and continued to work to push himself until he achieved his goal of bowling a perfect 300. He bowls every week in the Pennsylvania Junior Bowler's Tour (PBJT) competitions. These tournaments provide scholarship money for juniors.
At a young age, Verrella started bowling and fell in love with the game. He was only five years old when he started, and by the age of ten, he was already a serious bowler. 
Verrella grew up bowling at Skylanes. He typically bowls 3 days a week, and he bowls at least 40 games each week. Verrella insists that he will always bowl and will always love the sport.