Pocono Heritage Land Trust is committed to preserving natural beauty in the Poconos
SHS Mountaineer and Pioneer staff members took part in a county-wide photo contest sponsored by the organization.
When most people think of exciting things to do in the Poconos, they think of a day at an indoor waterpark or skiing down snowy slopes. But what about spending time admiring the gorgeous natural beauty of the surrounding land?
Right here in Monroe County, there is an organization, Pocono Heritage Land Trust, that is actively working to preserve the natural beauty of the Pocono Mountains. These include, but are not limited to, some absolutely stunning hiking trails. They also host a paint and sip event, where people can socialize and eat while they capture the beauty of their surroundings.
Founded in 1984, Pocono Heritage Land Trust has been fully committed to preserving the land left in the area that hasn't been turned into developed land. Founder of PHLT, Mr. Don Miller, and others could see the drastic effects that the rapid urbanization of the Pocono Mountains was having on the natural land. They knew they had to help preserve the land that was left. In the years since, PHLT has cooperated with local landowners and government and has acquired land throughout Monroe County with environmental, scenic, or recreational value.
On top of presenting recreational activities, PHLT ensures that the Poconos are supplied with clean, safe drinking water and air. Under their watch, wildlife and trees remain as healthy as possible.
"
The Pocono's are a living historical monument."
— Abigail Dillon
Current Outreach Coordinator of PHLT, and SHS alum, Abigail Dillon, spoke about how her upbringing inspired her to pursue a job with the organization.
As a Pocono native, Dillon grew up with a huge love and appreciation for nature. After graduating high school, she received a degree in ecological agriculture from the University of Vermont. Dillon feels extremely proud and grateful to be a part of such an important organization.
"The Pocono's are a living historical monument", said Dillon. "And we [PHLT staff] are lucky enough to be able to bring people closer to nature, and bring forth public effort to protect and appreciate land."
Organizations like the Pocono Heritage Land Trust have proven to be more important now than ever before, with issues like climate change becoming more and more pressing. According to Climate.gov, "[t]he 10 warmest years on record have occurred since 2005."
SHS Junior, Elena Casey, expressed her thoughts on why climate change is something that needs to be addressed. "Climate change has reached a point we might not be able to truly come back from", said Casey. "Having organizations like the Pocono Heritage Land Trust greatly preserves our local lands, and helps prevent Monroe County from seeing the horrendous environmental effects many places are experiencing.
Throughout the month of January, staff members of the high school Mountaineer newspaper and Pioneer yearbook participated in a county-wide amateur winter photo contest, sponsored by Pocono Heritage Land Trust. PHLT decided to host this photo contest as a way to engage people in enjoying and caring for nature.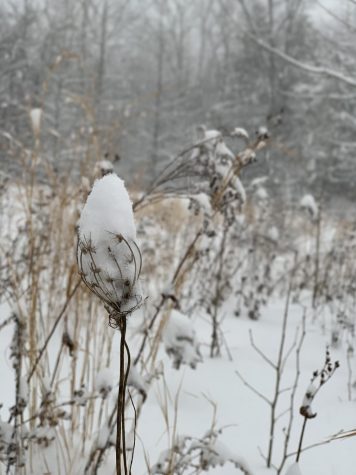 A staff member from the Pioneer, senior Hope Butler, was chosen as one of the photo contest winners!
To learn more about the PHLT and to view the photo contest, check out the links below:
Contest photos submitted by all participants:
https://docs.google.com/presentation/d/1OQcVZhbO_02IwVOCIbn2p1WvqesWFqTlWZQepU6fyGs/edit#slide=id.g1152f173855_3_414
More information on Pocono Heritage Land Trust:
https://phlt.org/abigail-dillon.html
https://phlt.org/places-to-visit.html
https://www.discovernepa.com/articles-and-stories/beyond-the-mission-statement-pocono-heritage-land-trust/
Leave a Comment