Teacher Feature on Mr. George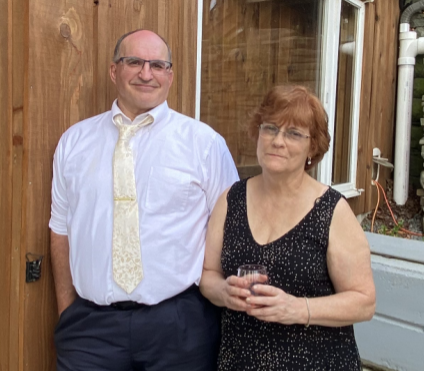 At which school in the district do you teach?
Stroudsburg High School.
What subject(s) do you teach? 
Technology Education – Robotics, Materials Production, STeAM Systems.
What grade (s) do you teach?
10 -12 – Primarily 10th.
How long have you been teaching at SASD?
Started in the Jr. High in January 2001. Moved to High School in the Fall of 2002.
Taught at Delaware Valley in Milford, PA for 13 years before coming to Stroudsburg.
What do you find most challenging about being a teacher?
Expect the unexpected – No two days are alike.
This also keeps the job interesting and engaging as a teacher.
It is also the most rewarding part of teaching.
Is there anything you wish you had known as a first-year teacher?
That I would still be teaching 30+ years later.
The role of politics in education.
What is one piece of advice you would share with your students?
Live Long and Prosper, Vulcan Salutation.
What is your favorite sports team? Why are they your favorite?
Any Stroudsburg team. As an opposing coach for many years, you get to see the culture created around all sports at Stroudsburg. It was more about the atmosphere and sense of community than just "winning the game". During my coaching era Stroudsburg was looked to as the model of how to develop a program. The continued success at Stroudsburg is not an accident.
What is your favorite quote and what does it mean to you?
"A bad day fishing beats a good day working."
Although I have never had a bad day fishing.
Some days catching is not so good, fishing is always excellent.
It's self-explanatory.
How and when did you know that teaching was what you wanted to do?
After high school, I graduated from Williamson Trade School and worked in the construction industry for a few years. I was kind of just drifting through life and stumbled across a few opportunities to coach high school sports. I thoroughly enjoyed working with the athletes.
I was 23 years old when I returned to school to become a teacher. I started out maybe wanting to be a History & Social Studies teacher. I quickly discovered that there was no future in history, teaching jobs were hard to get – many applicants & few jobs. I decided to use my background in the trades to become an Industrial Arts teacher. Industrial Arts evolved into Technology Education. I earned my degree and teaching certification from Millersville University, the rest is history…