Chess team "checks" out a gold medal at conference
Two players on opposing sides stare each other down, and then they focus on their boards. Sixteen pieces awaiting command. Sixty-four squares hold an infinite number of moves and strategies.
Chess may seem overwhelming on the surface, but for the students of the SHS Chess club, the black and white board opens the door to so much more.
The Chess club is also the varsity sports team that plays and competes with schools within the district. The team's coach, Mr. Connor Chalfant, helps the students improve in the game by providing them with strategies and other tips.
"Towards the beginning of the year, we focus a lot on just learning how to play chess," said Chalfant. "The kids are just practicing to get better at the game."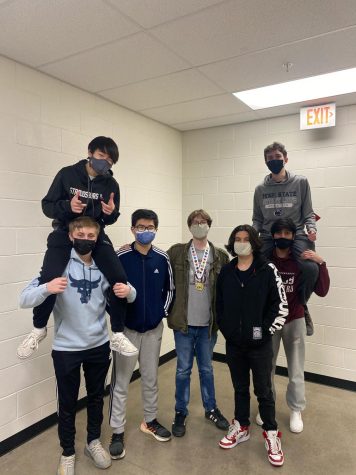 Recently, junior Greg Ranzan and many other members of the Chess team competed in the Eastern Pennsylvania Conference (EPC). Ranzan came out top 10 and received a gold medal for his victory on February 10, 2022.
"It was really exciting because we were having a really tough last two rounds," said Ranzan.
Players meet on Tuesdays and Thursdays after school and practice by playing matches with one another and learning new tactics. 
"Chess club is just a group of people who love the sport and just in general playing chess," said Ranzan. " It doesn't necessarily need to be super competitive. We all like to have a lot of fun and goof around – which is very different from what people think."