New library research elective being offered at SHS
Librarian Ms. Sherie Stauffer is excited about launching this new course.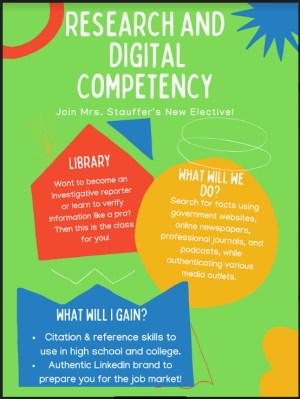 Searching for an elective that will benefit you throughout the rest of high school, college, and beyond? Well, look no further: "Research and Digital Competency."
While the newest elective to hit the books may not be art, music, or cooking, it should prove extremely useful to college-bound students.
This new elective will be taught by librarian Ms. Sherie Stauffer. This semester class will cover such topics as writing a table of contents and creating a works cited page, practicing using Google Sheets, verifying and authenticating news sources, investigating modern social media platforms such as Instagram and TikTok, and setting up your own Linkedin job profile.
Stauffer believes that it is important for students to know the most effective and efficient ways to locate, verify, understand, and include the information they need in order to be successful.
"There is just so much more information out there now than there has ever been before, and it can absolutely be overwhelming if you're not sure how to sort through it or navigate it."
Initially, this is elective was supposed to be offered before the pandemic hit. Now, students can finally enroll — and the timing could not be any better. Over the last two years, students have spent a significant amount of time learning virtually, which has resulted in less in-class instruction on proper research skills and other critical skills needed in today's world.
Stauffer acknowledged that, more than ever before, students need what will be offered in this course.
"Seeing how the students searched in the past prompted the creation of this elective," said Stauffer. "Tools such as citation machines (EasyBib) served their purpose while we were all at home, but students should still learn how to form things like works cited pages on their own, so they can write them throughout college and beyond."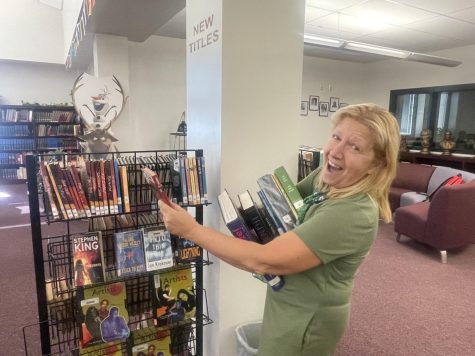 While Stauffer is aware that this elective may not appear to be a great adventure, she wants to assure students that is incredibly important, and she is working every day to make it enjoyable and worthwhile for the students.
Feel free to contact Ms. Stauffer with any questions about this elective by either stopping by the library or by sending an email to [email protected]
Research and Digital Competency:
ELECTIVE #1000
Pages 66-67
ELECTIVE CREDIT ONLY- will not count towards an English credit.