The Science Olympiad Club racks up awards
The Science Olympiad Club members may not know all the secrets of life, but they are certainly dedicated to competing and receiving a high placement in competitions and tournaments. 
"Science O" is a national competition/organization that covers science, biology, psychology, forensics, and more.
This year's advisers are Mr. Adam Carter and Mr. Kurt Pfeiffer.  They appreciate why students get involved in this organization. 
"I just think a natural curiosity in kids is what gets them interested in Science Olympiad," said Pfeiffer.
This year is Mr. Carter's first year of coaching the Science Olympiad team.
"It's a rewarding process to watch the team work so hard and have it pay off in competitions," said Carter. "Our captains have shown great leadership and cultivated an excellent sense of camaraderie.  I am looking forward to the state competition in Altoona on April 30."
On Friday, March 4, the Science Olympiad team went over to  EPC Northampton Community College where they brought back the EPC championship once again earning 5 first places 2 places, and 1 third place in ten events. They have placed first overall six times since 2015. 
During this school year, the Science Olympiad team has participated in three regional competitions. The Science Olympiad is set to compete in a state-level competition at Penn State in Altoona, Pa. on April 30, a competition they have gone to for over 28 years consecutively. Wish them luck!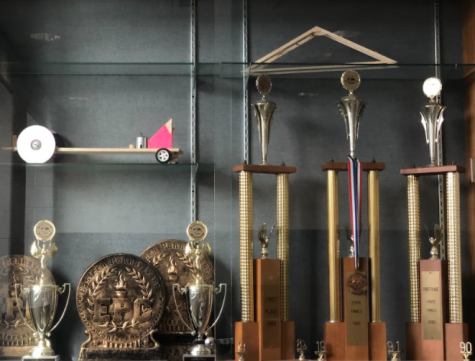 First Place Winners:
Selma Soulev and Jack Francis: Cell Biology
Casimir Morgan and Chris Hu: Gravity Vehicle
Ryan Chen and Matt Lipitz: Ornithology
Pret Patel and Steve Blannard: Ping Pong Parachute
and Becca Hawks and Sakura Helm: Write it-Do it
Second Place Winners:
Casimir Morgan and Jack Francis: Chemistry Lab
Pret Patel and Casimir Morgan: Wright Stuff
Third Place Winners:
Fikki Hodzhova and Andrew Hawks: Bridge
At NEPA Regionals at Penn State Wilkes Barre, the team earned 4th place overall out of 24 teams. They also earned medals in 9 of 23 events. 
First place in Chem Lab: Casimir Morgan and Jack Francis
First place in Trajectory: Casimir Morgan and Pret Patel
First place in Green Generation: Ryan Chen and Sakura Helm
Second place in Dynamic Plant: Ryan Chen and Chris Hu
Second place in Forensics: Matt Lipitz and Gunnar Gaspar
Third place in Detector Building: Casimir Morgan and Ellie Kats
Third place in Its About time: Casimir Morgan and Pret Patel
Fourth place in Environmental Chemistry: Jack Francis and Ryan Chen
And Fourth place in Remote Sensing: Chris Hu and Pret Patel