Nathan Voorhis – University of Connecticut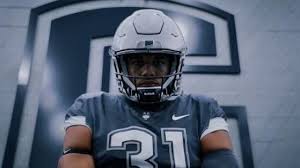 How prepared do you feel for your future after high school? (1 = I have no idea what my next step will be, 5 = I know what I want to do and how to get there)
5
What are you doing after high school?
4-year college (bachelor's degree)
What major do you plan to pursue?
Provide some more information about your plan after you graduate
I will play football at UConn and get my bachelor's degree in business. Hopefully, i will then have an opportunity in the NFL and if not, i would like to go into coaching or something in business
What is one goal you hope to achieve before graduating from SHS?
I just want to keep my grades up and get through the rest of the year
What do you look most forward to about next year?
Playing at The Big House, Michigan's football stadium
Share one insight/thought for next year's seniors.
The senior year truly goes so fast, it feels like last month school was starting