New venue transports customers back to the 1950s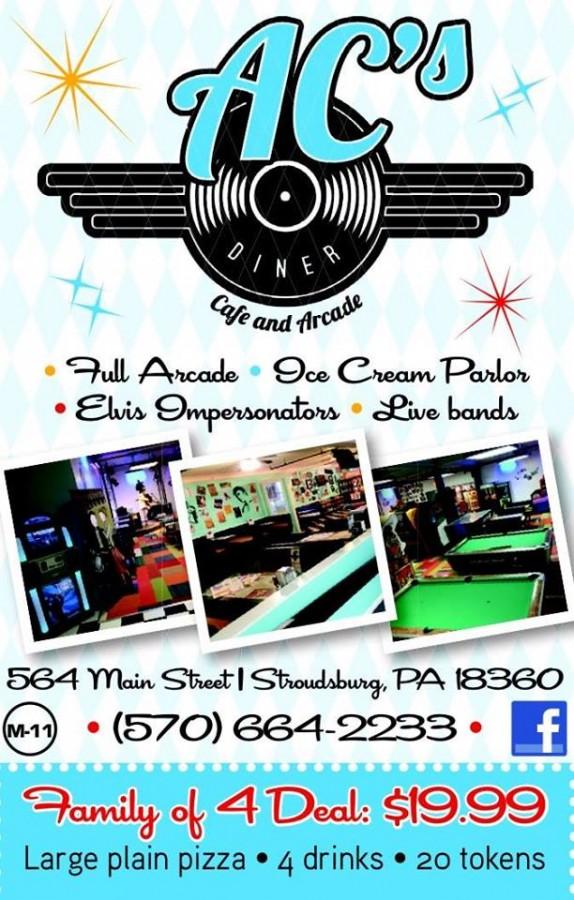 Located at 564 Main Street, ACai??i??s Diner is the most recent addition to Stroudsburg's revitalizing strip of shops. Since its grand opening in early February, ACai??i??s main purpose is to serve the public with not only great food, but also an atmosphere that shows the retro-ness of the 50ai??i??s.
Owners AJ Hiller and Craig DeBoer are natives to the Stroudsburg area, and have been wanting to create something special in their hometown.
The atmosphere of the diner is a glorious mixed bag of environments. The interior consists of a diner sitting area, an ice cream bar, a small movie viewing area, and an arcade. The sitting area consists of various 45 records, '50s movie posters, '50s memorabilia, and advertisements of candy being sold in that era. The movie area is a stage with speakers for performances, and a projector for movie nights. The arcade has various machines such as Ms. Pac-Man, Centipede, and Jurassic Park: The Lost World arcade machine. Sophomore Kristen Dougher can agree, as she says that ai???the arcade was a lot of fun."
ACai??i??s also offers live events every night, such as Thursday Karaoke Nights, Monday Trivia Nights, and Tuesday Double-Feature Movie Nights. In the spirit of the 50ai??i??s atmosphere, ACai??i??s also has items on their menu named after famous 1950's Hollywood stars or musicians. The main speciality of ACai??i??s is the Big Bopper: a A? pound burger named in dedication after Jiles ai???Big Bopperai??? Richardson Jr, who was a famous disc jockey that passed away after a major plane accident in 1959.
But that's not to say that there's just the Big Bopper. ACai??i??s menu also consists of of items such as the ai???Wimpyai???: a homemade sloppy joe. ACai??i??s also serves burgers, pizza, milkshakes, root beer floats, and much more.
When asked about future plans for the store, DeBoer expressed enthusiasm.
ai???For our arcade section, we plan on getting Frogger, Pac-Man, some fighting games, and a multi-game cabinet," said Deboer.
Along with the shop, Hiller and DeBour also plan on having one of the nearby shops down the hallway become a MMA training spot.
ACai??i??s is open every day from 7:00 a.m. to 11 p.m.