Mini Thon committee planning 12-hour extravaganza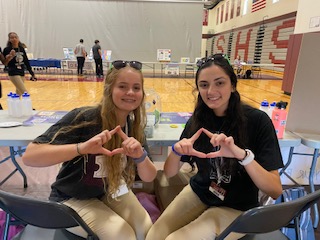 Each year in the USA approximately 16,000 children are diagnosed with pediatric cancer.
Stroudsburg High School and several other area schools hold an event called MiniThon, which raises money for the children.
Last year SHS raised $58,611.58. 
"Throughout the whole school year Mini Thon raises money by hosting events," said senior Kristen Ingenito, a Mini Thon member. 
Mini Thon events are inspired by a huge annual event called THON, which is held at Penn State University, in University Park, PA. Last year THON raised a staggering $13,756,374.50.
"We are very excited to promote our first 12-hour event since 2019," said senior Ethan Flanagan, a member of Mini Thon. "It will take place sometime in the spring and will raise money to fight childhood cancer!"
The students will stay up all night. At Mini Thon events, each year we have hosted in the gym where students and staff have to stay up for 12 hours to raise money for the kids. By raising this money at the events, students and staff have different activities you can do there.
"We want everyone to consider joining the Mini-THON team and/or participating in our event," said Flanagan. "We look forward to making this another successful year.
Students are encouraged to get involved by helping out and/or signing up for Mini Thon.  For more information, contact adviser Ms. Sarah Davis at [email protected]. 
The classroom code is open to all students. Code: dnyndp5