Stroudsburg High School earns top score in Pennsylvania Value-Added Assessment System
SHS shines among many other top schools
"Bottom line is," said SHS principal Mr. Jeffrey Sodl, "we're the top dog!"
Sodl made this statement after the SASD received scores from Pennsylvania Value-Added Assessment System (PVAAS). Stroudsburg High School received an 83%, edging out Parkland High School (82.8%) and Emmaus High School (80%). The high school celebrated their high score with a free dress down for all students in the building.
The Pennsylvania Value-Added Assessment System (PVAAS) annually measures student growth from one year to the next, based on state assessment performance. In this sense, growth for one student compares a student's performance on an assessment to their performance on earlier assessments. The score is determined based on attendance, graduation rate, career development, assessment scores, Keystone exams, and Advanced Placement (AP) enrollment.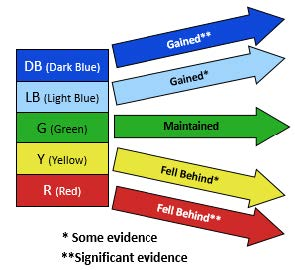 Stroudsburg Area High School ranked number one throughout Monroe, Northampton, and Lehigh County schools. SHS's remediation classes, as well as career development plans, dramatically impact the district's score.
In order to earn the best score possible in career development, the SHS administration researched options over a year ago and chose a program called Smart Future. The program is based in Pittsburgh and follows Pennsylvania's Academic Standards allowing for a higher PVAAS score. Smart Future prepares students for post-secondary success. It includes lessons to discover a student's interests and future career paths.
SHS's individualized education program "is the best in the area", and greatly benefits the scores, explained Sodl. Programs such as Common Grounds, Common Clerical, and Common Threads help students learn life skills and further prepare them for their future. 
Stroudsburg Area School District's four-day week during 2020-2021 helped students bounce back after the pandemic. Sodl also believes that the district's dress code keeps students focused and creates an environment for a good work ethic.
Below are the Pennsylvania Value-Added Assessment System (PVAAS) scores of the area schools:
Stroudsburg High School: 83%   
Parkland High School: 82.8
Emmaus High School: 80
Pocono Mountain East High School: 78
Pocono Mountain West High School: 77.6
Nazareth High School: 75
Pleasant Valley High School: 72
East Stroudsburg North High School: 66