Celebrate Human Rights Day on December 10
Special day founded by the United Nations begins preparation for 75th anniversary next year
"It feels like the general public has become complacent and has stopped fighting for a brighter future," said Kimani Hanson (12), president of the Diversity, Equity, and Inclusion Club.
Every year on December 10, Human Rights Day is marked to commemorate the day the United Nations General Assembly approved the Universal Declaration of Human Rights in 1948. 
The Universal Declaration of Human Rights (UDHR) is a landmark declaration that affirms the intrinsic rights that every person has, regardless of race, color, religion, gender, language, or political ideology. Being translated into over 500 languages, this document is incredibly universal. 
Starting this year, the United Nations will begin a one-year campaign with the goal of increasing awareness of the UDHR's applicability and the activism that surrounds it. This campaign will be used to highlight the UDHR by emphasizing its history, current relevance, and activism.
The principles and rights outlined in the UDHR serve as benchmarks for the United Nations' cooperative actions to ensure that no one is left out of the equation.
"Human Rights Day brings awareness to marginalized communities and people of power so that those with the resources to make change can do so", said Delaney Burke (11).
Since the adoption of the Universal Declaration of Human Rights, these rights have gained increased international recognition and protection.  The UDHR has served as the cornerstone of a growing system of protection for human rights. The document is now paying particular attention to vulnerable populations such as migrants, indigenous peoples, and people with disabilities.
At Stroudsburg High School, there are several clubs that focus on supporting human rights. These include NAACP Future Leaders, Gay-Straight Alliance (GSA), and Diversity, Equity, and Inclusion (DEI).
The objective of the NAACP is to advance laws and practices that advance the civil and human rights of Black people and all people of color. Adviser Ms. Nadeen Edwards is an advocate for human rights.
"
Everyone has a right to their own opinions but no one has the right to disrespect another person's for their's
— Ms. Nadeen Edwards
The goal of the UDHR has always been to promote equal rights and dignity. However, in recent years, the document has consistently come under attack. The global financial system, the system of institutions, agreements, and official and informal economic participants that promote cross-border movements, is ethically bankrupt, with increasing inequality, pandemics, racism, and climate change being just a few examples of this.
On occasion, The United Nations (UN) has presented awards on Human Rights Day. The United Nations Prize in the Field of Human Rights is given to brave people who have made significant contributions to promoting World Human Rights Day. Ten awards, with numerous prize winners like Eleanor Roosevelt and Martin Luther King Jr., have been given out since the award's founding in 1968.
"People like MLK were leaders of movements that helped people facing oppression, so naturally, they would get recognized for their contributions to human rights," said Benjamin Domanski (11).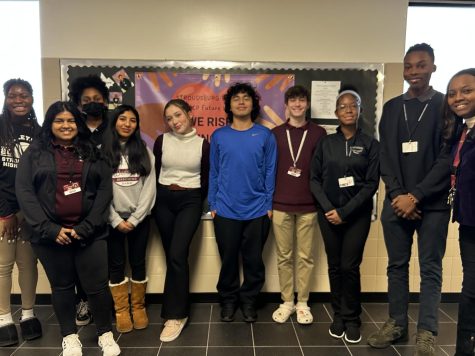 If students want to get involved in the push for human rights, come to the next NAACP, GSA, or DEI meeting. If you have any questions, contact the following advisers.
NAACP- Ms. Edwards ([email protected])
GSA- Ms. West ([email protected])
DEI- Ms. McKain ([email protected])
To learn more visit these links:
https://www.ohchr.org/en/about_us/
https://www.ohchr.org/en/get-involved/