Spring Sports Kick Off Their Seasons
Even late winter storms can't stop the spring sports seasons from starting! Stroudsburg spring sports consist of baseball, track & field, softball, and boys' tennis.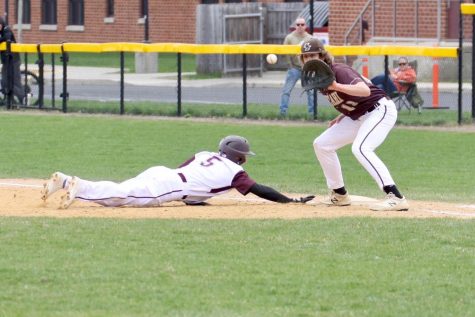 Baseball starts this season with a brand new head coach, Alex Hiscott. The team hopes to come out with a bang, taking on a divisional opponent in Pocono Mountain East, at home. Senior Shortstop, Brayden Sweppenheiser says, "I think the team is going to be successful with our new coaching staff and the team chemistry."  Junior pitcher, Jackson Brancato says, "If we all play to our capabilities, we can win a lot of games this year."
The track and field team is coming off a great season.  Last year they won the East Stroudsburg South Invitational; won the EPCs; were 2nd in Districts; and sent seven athletes to States.   Senior Kate Beebe says, "With all the talent we have this year, hopefully, we will win the North Division again." Junior Kevin Polonia says, "We lost a lot of talent last year, but that is just motivation for new people and new leaders to step up."  This year's track and field team is coached by Coach Youngken.
The varsity boy's tennis team consists of 13 players. They are coached by Coach Tapiro. These players have been working out during spring intramurals, and looking forward to this upcoming season. They hope that all of this extra work pays off and that their season is very successful.
Softball also kicks off it's season on March 21 with a home game against Pocono Mountain East. This team is looking good this year, and hoping for a big win against the Cardinals to start the year.