March 31st is Transgender Day of Visibility!
What is Transgender Day of Visibility (TDOV)? 
TDOV takes place on March 31st each year to celebrate trans and nonbinary people and bring awareness to their struggles and hardships within society.
Recent events have made a day like today even more important. The unfortunate events in Nashville, TN this week have brought transgender people to the forefront of news cycles all across America. Certain news outlets have taken this tragedy as an opportunity to drive a message of hate. We at the Mountaineer believe today should be a day of love and mutual respect. Today is an opportunity to embrace equality for all people.
TDOV helps to educate people on multiple trans issues, the most recent being the anti-trans bills being passed around the country.
Just this week, five new anti-trans bills have been passed across the united states, and more than double have been introduced. Most of the bills attack not only unassuming trans individuals but primarily trans youth. The most recent bill to be passed was the Kentucky Senate Bill 150, which states the following:
Bans all gender-affirming medical care for trans youth
Requires medical staff (ie. doctors, nurses) to detransition minors in their care if they're using any of the restricted treatment options
Prohibits conversations around sexual orientation or gender identity in school for students of all grades
Requires school districts to forbid trans students from using the bathroom corresponding to their gender identities
Allows teachers to refuse to use a student's preferred pronouns
What can you do to help?
When SHS's trans students were asked how their life could be made easier by those around them, they mentioned that the largest factor of their discomfort was simply social isolation. They articulated that they disliked being treated differently based on what's essentially a non-factor. These students asserted that they wanted to be treated like everyone else, while also not being forced to keep their identities secret. Overall, The best way to help the trans people closest to you is to simply interact with them with kindness and empathy.
If you or someone you know who is transgender is in crisis or just needs to talk to someone, these hotlines are available 24/7 to use:
-The Trans Lifeline can be reached in the US at 1-877-565-8860
–The Trevor Project's crisis counselors can be reached at 1-866-488-7386. Send 'START' to 678-678 to connect via text or talk here.
–Transfamily Support Services offers free online support groups for families of trans people here.
–PFLAG's Straight for Equality program offers free education sessions for trans allies in the workplace.
These educative resources are available for those who want to join the fight for trans equality:
–FORGE is a nonprofit organization that provides support for trans victims of violence (crime, sexual violence)
–The Transgender Law Center Help Desk is a fantastic resource for those who want to as questions about and educate themselves on trans-related laws and legislation.
–The Transgender Legal Defense & Education Fund's Trans Health Project helps trans people discover and understand the medical care available to them.
– Transathlete offers and arrangement of information regarding trans people in sports and fitness.
---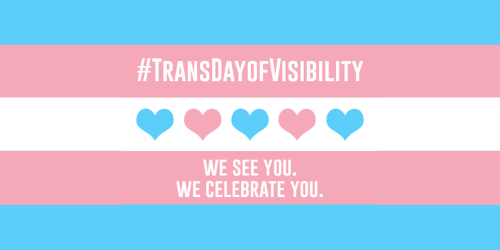 Sources:
Understanding and supporting the transgender community By Christopher Dawson, CNN
Trans Day of Visbility – LGBT Foundation
Ahead of Transgender Day of Visibility, Democrats press bill of rights by Brooke Migdon, The Hill