In 2004, Scott Borchetta, CEO of Big Machine Records, first saw Taylor Swift perform at Nashville's Bluebird Cafe. 
When she was only 15, Swift was signed with Big Machine Records. A year later, she released her first single, Tim McGraw, and her career blew up.
Swift's success has been rampant since her debut album, Taylor Swift, in 2006. In years since, she recorded six albums with Big Machine Records, a well-known record label, and four with her producers. 
Swift's original albums blew up immediately, surprisingly fast and normally unprecedented for a new artist, and her career soared. 
According to Britannica, all of Swift's albums early on in her career – like Fearless, Red, and Speak Now – were high on the Billboard 200 chart for weeks. Her next release, 1989, was her first pop album, and its success surpassed her past recordings.
The issues with Big Machine Records started when Swift got into drama with Kayne West, a well-known rapper, and his manager, Scooter Braun. 
During the MTV Video Music Awards in 2009, "West infamously grabbed the mic out of a 19-year-old Swift's hands during her acceptance speech and declared that Beyoncé should have won the award," according to Today Magazine. 
Although she put the original incident behind her, Swift was later outraged by West's sexual references and images of her in his music video, especially the lyrics, "I made that b—h famous, I made that b—h famous," in his song, Famous. 
She publicly stated that he didn't have her permission for the targeted lyrics, despite his claims and evidence against her. Swift also accused Scooter Braun of collaborating with West to bully her on social media – creating a rift between her and the manager.
In 2019, Braun bought Big Machine Records and gave Swift an ultimatum: she could lose all rights to her albums since her contract with the company ended, or she could "earn" them back by re-signing with the label and giving them all the rights and profits of her new albums in return for her old ones.
In a legal battle against Braun, Swift was banned from using her past songs in any context, according to Lindsay Toia. Telling her fans to let Braun know how they felt, Swift was able to convince the record label to let their artists stream their works.
She decided to re-record her past albums, in her name, so she could own her albums and receive the deserved recognition and profits from them. By signing with Republic Records in 2018, Swift could continue creating new content without the threat of losing their rights. 
Forbes stated, "At the time, Swift's plan seemed like a calculated and logical step, but the success of re-recorded albums was largely uncharted territory." 
Although she had a huge fanbase, there wasn't a guarantee that fans would fully embrace the newer versions of the songs they already loved.
Swift knew it was a risk and took it. Swift's Taylor's Version albums out now have all dominated the Billboard 200 chart. 
Her latest re-recording, Speak Now (Taylor's Version), ranked number one on the charts for multiple weeks after its release and sold around seven hundred sixteen thousand copies of her re-designed vinyl. 
This was her third release of a re-recorded album, all of which achieved "critical and commercial success," according to Forbes.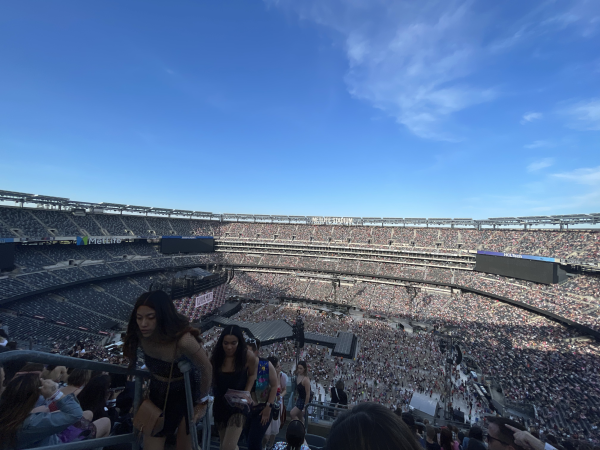 Jackson Fleming, 12, says "Taylor Swift is one of the most influential celebrities right now and a smart businesswoman." Fleming thinks that the amount she's made, from the Eras Tour movie alone, is insane, and her career's success has been amazing.
She's releasing 1989's re-recording, plans to release the last two albums under Big Machine Records' control in the coming years, released the Eras Tour movie on October 13, 2023, and is currently on her Eras Tour until November 2024. 
This new independence has paved the way for smaller artists to earn more from their music. Swift using her audience to stand up for what's right put a spotlight on record labels and how their copyright laws hurt creators. This allows for more success and freedom in the music industry, benefiting both artists and producers alike.
Swift's fandom keeps growing and her music appeals to almost any audience. Jessica Brady, Stroudsburg Alumni '23, stated, "I think that a lot of people who are deeply connected with Taylor now grew up loving her and her music." 
Brady also mentioned that Swift's music still gives fans a taste of childhood nostalgia.
Having a role model for young teenagers is so important, and Swift is a celebrated one.
Emma Bialasiewicz, 12, says, "Taylor Swift connects so well with teenage girls by sharing her life experiences and different stories." She says that Swift is relatable for fans because she's unafraid to show her true self and inspires others to embrace their differences. 
The combination of her dedication to fans and ability to take control of her talents makes Swift one of the most influential artists of our generation, according to The State Times.
Swift's newest release will be coming out on October 27, 2023. The re-recording of her most renowned pop album, 1989, is heavily anticipated by fans and will feature five new vault tracks.
Don't forget to stream 1989 (Taylor's Version) and watch the Eras Tour movie in theaters!