Street artists and students paint murals around the Stroudsburgs
Ten sites: take the tour and admire the artistry of an entire community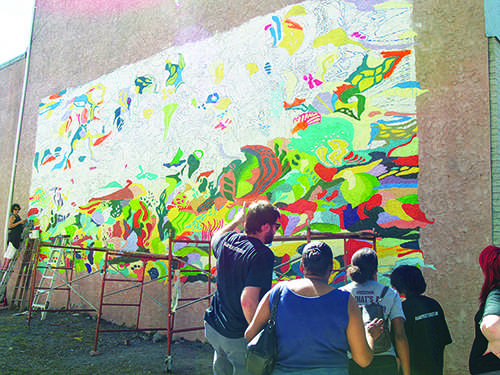 Ten murals, ten artists, and dozens of volunteers came out on September 27 for the all-day celebration of the artistic revival in Stroudsburg called "Project Street Art".
This large scale event was first inspired by the chain-link fence blocking off an empty lot of a building that burned down several years ago on Main Street. Ai??The view is now hidden by a mural created by several professional artists who displayed their interpretation of the historical buildings in downtown Stroudsburg.
ai???People wouldnai??i??t even walk on that side of the street,ai??? said Mr. Shane Izykowski, local founder and director of Project Street Art. Ai??There was a lot of positive feed back from the community and from that first successful mural to cover up an ai???eyesoreai???, the idea blossomed into an international gathering of artists, professional and amateur alike.
The process was not without its challenges. Any town would have its concerns over having people come and paint all over their walls; however, the cause was worth the struggle. Izykowski and his associates got the permission from the Borough Council to begin.
The murals were completed on the all day event held on September 27 where dozens of volunteers picked up a paint brush and assisted these artists to finish their designs and display them to all of Stroudsburg and East Stroudsburg.
Musicians traveled to each event and food was generously provided by several eateries in town. Also, guest appearances were made by Olaf from Frozen and a Minion from Despicable Me.
One of the more intricate murals was at location two, across from Soho in the Burg. Ai??It was conceived by artist Ms. Rin Lack, whose creativity was not hindered in the slightest by her two story, abstract design with more paint buckets and volunteers than any other site.
ai???It was cool to be a part of something that is all around; not just in Stroudsburg,ai??? said junior Deborah Roberts.
Many artists like Lack didnai??i??t have to censor their art for this event and expressed that they had full range to design whatever they felt would fit best.
Los Angeles artist Ms. Illma Gore painted a portrait of her best friend as a mural that is both breathtaking and awe-inspiring. Ai??The mural is located on Ann Street by the American Ribbon Factory.
Another of the chosen artists was Ms. Nova Chan, resident of East Stroudsburg, who commented on her mural on the bridge near the Stroudsburg Wawa.
ai???I wanted to do something [art design] universally friendly and I went with the four elements," she said. "I wanted, as youai??i??re walking, to feel like it moves with you.ai??? Ai??Chan expressed that the outcome was not her original design, and that it more created itself through the help and encouragement of volunteers.
While some community members weren't so sure about the project at first, they found that seeing is believing. Ai??Some even have named a few as their favorite like senior Tommy Rubino, who prefers the train mural.
ai???I didnai??i??t even know that the mural was there until a week after and then I was like ai???Whoa!ai??i?? I didnai??i??t expect to see a train coming out of the wall. . . My mind was blown.ai???
There were other Stroudsburg residents who were supportive from the start. Ai??Ms. Andrew Rimbert, owner of the gallery Soho in the Burg Andrea Rimberg, as well as Ms. Jody Singer, Mr. Brandon Jones, and Ms. Sonia Leticia are only a few of the essential people who supported Project Street Art from the beginning.
The first phase was finding the artists. Ai??After hosting art shows and international contests, the second phase began, having three judges to pick ten artists for the locations (originally desired to be twelve). Ai??The judges were Ms. Darlene Farris-Labar, Associate Professor of Art at East Stroudsburg University, Mr. John Schoonover, partner and architect at Schoonover & Vanderhoof and board member of the Historical and Architectural review Board, and finally Mr. James T. Burns, fifteen year staff artist for the Philadelphia Mural Arts Program.
An overwhelming number of students from SHS got involved with the movement as well as students from East Stroudsburg, Pocono Mountain, and other schools in our area. Ai??The outstanding student turnout could be partially credited to Stroudsburg English teacher Mr. Matt Sobrinski, whose journalism class invited Izykowski in for an interview.
ai???I always promote student involvement in the downtown," said Sobrinski. "This was an exciting opportunity for students to participate in an activity and literally make their mark.ai???
Project Street Art was more than a bunch of art kids spray painting businesses; it was a gathering of enthusiastic individuals that wanted to change a blank, expressionless wall into a canvas and create something special for their community.
The experience was a surreal level of self expression that will be able to live on in the memories of all the volunteers and supporters, and their work can be appreciated for as long as the walls stay standing.
If Izykowski and other artists have their say, more events like this will be held in the future to continue adding character and color to the community.