Noses out of Books
Research shows that teenagers are reading less. Have you fallen victim?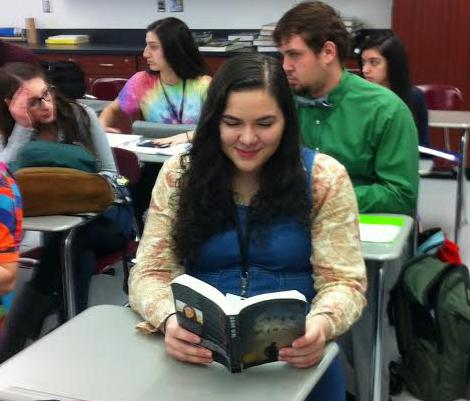 It improves vocabularies, broadens imaginations, and increases standardized test scores. Ai??Ai??How can this magic formula be attained? Crack open a novel and find out.
Over the years, many studies haveAi??revealed that reading helpsAi??people in Ai??differentAi??areas, from improving standardized testing scores to preventing diseases like Alzheimer's.Ai??So why, in this generation, do only 19% of teenagers read daily.
ai???I wonder if kids are exposed to other forms of entertainment- video games, internet,etc- that are more accessible and require less effort," said English teacher Mr. Douglas Batt. "Therefore, the thought of ai???readingai??? is more like work than entertainment."
Since 1984, the number of 17-year-olds who never read for fun has tripled from 9% to 27%. Although there can be many culprits, all fingers Ai??point to a specific one — the same one that Einstein claimed would produce a generation of idiots: technology.
Technology seems like the most viable reason. In 1984, the same year the first cellphone went on sale for $4,000, 64% of adolescents said they read once or twice a week. Ai??Now, when 78% of teens have cell phones, 45% Ai??admit they read about once or twice a year — yes, a year.
If anything, technology should open students up to all different types of written media like newspapers, magazines, comic books, instruction manuals and the highly popular fanfiction, which is a story, created by fans, about characters from a published work of fiction.
ai???Fanfiction is life,ai??? said junior Victoria Martine. ai???Just because something is not published into an official book doesnai??i??t mean you canai??i??t read it. I find fanfiction more interesting than a majority of books published today."
In this day and age, there is a difference between students not reading and students not reading books. Some argue that, despite the technology craze, students are actually reading more often.
ai???Itai??i??s hard to find time to read because of all the activities kids do, but I like to read to unwind,ai??? said junior Caitlin Romstedt.
Data from the Stroudsburg High School library showed that in one day 36 books were checked out, in one month 271, and from the beginning of the 2014-2015 school year, 4,704. Ai??SHS librarian Mr. Bill Lowenburg said that this is a big improvement from previous years.
"My feeling is that student reading is on the increase," said Lowenburg. "Many kids still love to read traditional books and a growing number of students enjoy reading on Kindles, IPads, smart phones, or laptops, so I think the total number is growing."
While some students may have time to read, others feel overwhelmed by their busy schedules.
ai???Itai??i??s not like I donai??i??t enjoy reading,"Ai??said junior Bryana Mitchell.Ai??" IAi??just donai??i??t have any spare time. [It is junior year and I have] studying and homework. Itai??i??s hard to find time to read except for the weekends."
Administrators are aware of this dilemma. This is one of the reasons why the Silent Sustained Reading was inserted in the curriculum approximately five years ago. This is a brief period of time in class dedicated to reading. The main purpose of SSR is to promote reading among teens on a daily basis.
ai???I know everyone is focused on doing well [ in school]," said principal Mr. Jeffrey Sodl.Ai??"I think as long as SSR is handled appropriately, it is a good thing.Ai?? SSR gets kids to read books they do not read outside of school.ai???
Sodl is not the only fan. Students have expressed a positive attitude towards it.
ai???I believe that SSR is an extremely beneficial activity to add to a studentai??i??s day,"Ai??said junior Dionai??i??Ya Laval. "There is nothing that builds knowledge more than sitting down and reading aAi??book, Ai??but not everyone has time for this."
While some praised SSR, it received poor reviews from others.
ai???SSR is inefficient because a majority of students either text or pretend to read,ai??? said Ai??Martine.
Whether students are provided time or have to set aside time, nothing can take away from the fact that reading is beneficial. Will this become the Ai??generation of idiots Einstein predicted, or will Ai??the genius be proven wrong. If the later route is chosen, books will have to be cracked open…pronto.