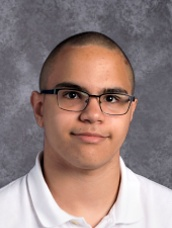 Student Spotlight on Charles Grimsey
What motivates you to come to school?
Whenever I get up in the morning, I always remember how far I've made it in my school career. Sixth grade feels like only yesterday; when I was that young, being a sophomore seemed like an eternity away. Man, time sure flies doesn't it?
Who is one of your favorite teachers?
If I had to choose one teacher, it would be Mr. Zimmerman. He has a quirky sense of humor that you don't  find in other people. He shows great enthusiasm in his subject, and it is something that I admire about him. Mr. Zimmerman really helped me enjoy my time in Biology.
Who is one person that you look up to in your life?
A person I look up to is my best friend Nick. We've known each other for ages, and over the years he's helped me with so much. Thanks to him, I learned how to fish, hunt, and play video games. I can't thank him enough for being there for me. By the way, Nick, if you're reading this…You're the best, dude!
What is one of your future goals?
I have many goals for my future. For college, I plan on going to Northampton Community College for the first two years, and finishing at either Penn State University or Temple University. I would like to be either a professional astronomer or a high school science teacher.
What are your hobbies outside of school?
I help my family with chores, spend time with my Grandpa, or watch TV. I also go on my phone a bit more than I probably should.
Should there be a dress code? Why?
I would have to say yes. The dress code has been around for years and it has been extremely effective. If the school board allowed it to exist for this long and it hasn't caused a problem, then I see no reason to get rid of it.
What was your favorite memory as a kid?
So my favorite memory is when I first went to the Museum of Natural History with my family back in 2011. We had to take a tour bus to get there and on the way. I saw so many tall skyscrapers like the Empire State Building. When we went inside of the museum, I saw this huge skeleton of a Brachiosaurus. I had never seen anything that size in my life and I was mesmerized by it. After that we got to see several exhibits with other dinosaurs, cells, biomolecules, architecture, and even  a live planetarium show. It was an incredible experience that I won't forget anytime soon!