More teachers of color would benefit SASD students
Diversity among students significantly greater than teacher diversity
January 30, 2020
Every single year, Stroudsburg's student body has become increasingly more diverse as has the student body of public schools across the country.  In 1994, two-thirds of public school students were white; by 2016, fewer than half were.  
Yet, while the number of teachers of color has grown, the racial gap (the gap between the number of students of color and the number of white teachers) has widened dramatically not only in Stroudsburg but across the nation. 
A school realistically should strive to provide a teacher body representative of its student body. That should include the various types of diversity in the teacher hiring process such as age, religion, or sexual orientation. In SASD (Stroudsburg Area School District) however, the largest diversity present within its student body is racial diversity, and as a result, is the diversity needed to be talked about.
Students of color (students of color includes, Black, Hispanic, Asian, Native American, Multiracial, and Pacific Island) make up 46.9 percent of SASD's student body, with white students making up around 53.1 percent. Yet, when looking at Stroudsburg's teacher body's racial diversity, it has remained stagnant. Even though almost half of the student body is of color, only 1.5 percent of teachers are colored, with the other 97 percent being white.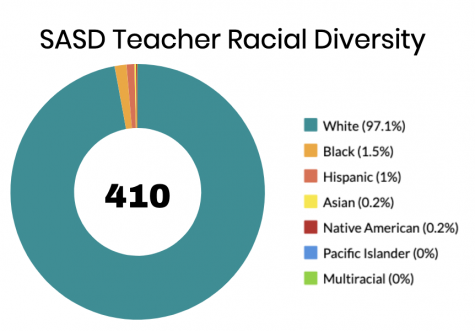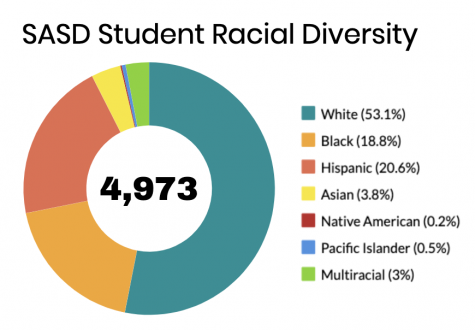 In simple numerical terms, there are approximately 2,332 students of color in SASD (. As of 2018, SASD has only 11 teachers of color. Now it has to be stated that by no means is SASD intentionally turning away teachers of color; nowhere there is there even remote proof of that.  
The question that needs to be answered is why there is such a lack of teachers of color not only in Stroudsburg but on a nationwide scale. In a study conducted by the Washington Post, about 8 in 10 students live in districts where teachers of color make up less than 5 percent of the faculty.
This issue is deeply nuanced and multi-faceted, with layer upon layer of reasoning, history, and systemic racism. There is no one golden answer. However, it is important that communities and schools acknowledge the racial gap between their students and teachers, and at least attempt to minimize it.
When looking at the teacher workforce through a national lens, teachers tend to be white and female. However, in an increasingly diverse society, public schools should be representative of everyone, and when a teaching staff does not reflect the diversity of a school community, it points to a systemic inequity that needs to be addressed.
"Teachers need to represent the students they are teaching," said social studies teacher Mr. Anthony Lanfrank." I think it would really help kids of all backgrounds to see people like them in front of the room." 
It's a simple fact that teacher diversity benefits students. Research reveals that when students have teachers who match their race or ethnicity they will perform better in the following areas: improved attendance, fewer suspensions, more positive attitudes, higher test scores, higher graduation rates, and higher college attendance. While race is not the sole factor in building connections between students and teachers, it is definitely a major component in helping to bridge a student of color to a teacher of color. 
"
I connect with my students because a lot of students may be broken. And I can connect with that. I can connect with them"
— Ms. Nadine Edwards
"I feel like I can connect with students because I grew up poor, female, and black," said math teacher Ms. Nadine Edwards. "I connect with my students because a lot of students may be broken. And I can connect with that. I can connect with them. " 
Teachers of color also have higher expectations and more positive perceptions of students of color both academically and behaviorally. A recent study found that African American teachers are less likely than white teachers to perceive African American students' behavior as disruptive. Likewise, when a black student has both a non-black teacher and a black teacher, the black teacher tends to have much higher estimation of the student's academic abilities than the non-black teacher.
"A lot of students of color gravitate toward a teacher like Ms. Edwards," said senior Kayla Rose. "Having a role model like Ms. Edwards proves to us that it's possible to pursue higher education."
Students have improved school experiences when they are with teachers who look like them and who may understand their cultural experiences. When teachers look like the students they serve, particularly in diverse school districts such as SASD, there are fewer suspensions and a greater number of students who pursue advanced coursework, like Advanced Placement. Having teachers that look like them signals to students of color that they not only belong in the school but can excel within it as well. 
"I'm not saying Ms. Edwards is encouraging just because she is a math teacher," said Rose. "I'm saying she is encouraging because she is doing what she loves. So it tells students that look like me that I too can do what I love, no matter what."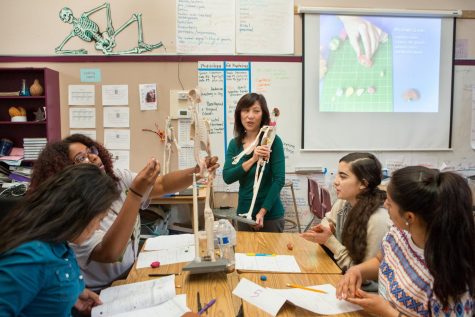 Increasing the percentage of teachers of color in the workforce is not just important and beneficial for students of color. Students of all racial backgrounds can benefit from a diverse teacher workforce that represents Stroudsburg's multicultural demographics. Research strongly suggests that white students show improved problem-solving, critical thinking, and creativity when they have racially diverse teachers. 
It is human nature to self-segregate into social and friend groups that mimic your own background. However, this self-segregation is a dangerous mentality to harbor due to the fact that it further isolates students who otherwise need to be prepared to interact with an increasingly diverse world. A recent study conducted by Harvard social scientists found that 75 percent of white American teens have all-white social networks. This subconscious self-segregation restricts a teen's worldview and may further propagate preconceived notions of people of color.  
So while Generation Z may consider themselves the most "woke" generation in American history, there is still a massive amount of unconscious bias present. It would not be unreasonable to draw the conclusion that this unconscious bias is perpetuated by the fact that the vast majority of students in SASD have never had or never will have a teacher of color. A Yale study in 2007 found that youth ages 10 through 19 had just as much "implicit racial bias" as older generations did — and compared to some age groups, even more.
However, when white students are exposed and surrounded by positive role models such as teachers who are racially diverse, they are more likely to have a concrete understanding of racial and social injustice and less likely to be prejudiced when they're immersed in racially diverse schools.
"
As a white student, I personally feel that when you have teachers of color, they can bring more experiences to their teaching, which ultimately helps us as students learn more."
— Guinevere Trunfio
"When I think about it, all of my teachers are and have been white", said junior Guinevere Trunfio. "When I had Ms. Ventura, (the Spanish teacher who took over Ms. Nicholson's class during her sabbatical) she taught from a Spanish speaking perspective. She taught us more than just the Spanish language. As a white student, I personally feel that when you have teachers of color, they can bring more experiences to their teaching, which ultimately helps us as students learn more."
The benefits of having teachers of color are immeasurable. It's clear that there would be no reason for a school to not want a racially diverse teacher body. But the problem is this. The supply of teachers of color is incredibly low nationwide and becomes even more minuscule in suburban areas such as Stroudsburg. 
A large reason why the teacher workforce lacks teachers of color is because of the systemic racism that still exists in the U.S. society. People of color are more likely to have experienced poverty and received a lower-quality education, often leaving them far more financially crippled than their white counterparts. Students of color are less likely to have parents who can pay their tuition, so as a result, they are more likely to borrow money to get through college. This then creates pressure to find higher-paying jobs afterward.
The lack of teachers of color is an incredibly complex problem that can not be easily solved overnight, and by no means can it be solved through the publication of a high school feature article. But the fact remains that creating a more diverse workforce is a long-term proposition, and is one that requires deep-rooted moral change. 
"I think the only time we will change the balance of teachers in America is if we change the value of money," said Edwards. "If we teach students to go into a profession to help others, they would not choose a job just for money."
Another method of addressing the overall lack of teachers of color in the Monroe County Area is by partnering with universities and colleges with strong education departments such as ESU and NCC. Working with community resources to empower students to pursue a career in teaching is something that English teacher Mrs. Jaime Marra is passionate about. 
"By partnering up with ESU or NCC we'd be able to encourage students from all backgrounds to go into teaching," said Marra. "Not only could we diversify our future teacher population, but this also gives students an opportunity for a career." 
Administrators in the Alhambra Unified School District, located in East Los Angels, had a similar idea. Over the past several years they have been recruiting a substantial number of Latino teachers to match their majority Latino student body. This increase of Latino teachers is spurred on by the fact that students who have graduated from the school district return as teachers due to the creation of a large teacher training programs at their local university, California State University of Los Angeles.
At the core of every single high school is the belief that they should empower their students to pursue their passion. By helping students find what they love, maybe schools have a better shot at making them love teaching. 
"If you do what you love," said Edwards, "You'll never work a day in your life."
Washinton Post Color Gap Graph:
https://docs.google.com/document/d/1co0244ABSgx0J5JBfdDVpq-fp5Ri9fouSKPhPfoBDWI/edit?usp=sharing
Sage Journal Resource:
https://journals.sagepub.com/doi/10.1177/1086296X16683422