Local students form nonprofit organization to help during this difficult time
"Life's most persistent and urgent question is 'what are you doing for others?'" – Martin Luther King Jr.
During this stressful time, there are many essential workers who are continuously putting their lives at risk to help others.
In March 2020, Stroudsburg High School students decided to put others before themselves in order to support essential workers in their community.
Sophomore Yasmine Eljamri decided that she was not going to stand by without helping her community. Inspired by her older sister, Soukaina Eljamri, running Feeding the Frontlines program branch at Pittsburgh University, Eljamri took to social media to see who would be interested in partaking in her plan to help hospitals and local businesses in Stroudsburg.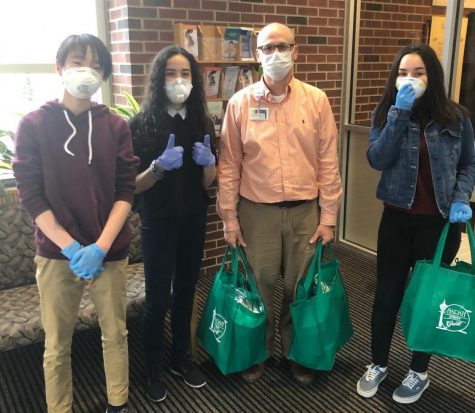 Current co-executive director Project Quarantine, Chris Hu, was the first to reach out, and together Eljamri and Hu formed Project Quarantine.
Project Quarantine officially started March 28, 2020, and has accomplished much since then. Project Quarantine has made four successful deliveries to four testing clinics and partnered with Lehigh Valley Hospital Network to donate food to. They've also ordered from local businesses: Sarah Street Grill, Amici's Pizza and Pasta, NYC Grill, and Little Angel's Cafe and Catering.
Along with helping hospitals and local businesses, Project Quarantine has raised about $2,725 and increased its goal to $3,000.
"The ultimate goal for Project Quarantine is to try out hardest to eliminate any drawbacks the pandemic has caused to families in the Monroe Community," said Eljamri.
Not only are Hu and Eljamri working towards Project Quarantine's goal, but they have partnered with the Feeding the Frontlines program, which works to primarily assist all small family-owned restaurants that have lost business due to the pandemic.
What started off with only two people has grown it something much bigger. An advertisement team, consisting of SHS students Sofia Forgione, Nalani Valdez, Pruthvi Patel, and Ethan Flanagan, was formed, as well as Amy Weng from Pocono Mountain East works as an educational outreach. Partnerships with East Stroudsburg South National Honor Society and Lehigh Valley Hospital Networks were also created.
"Running this project is an experience and a half, as we reach out to so many people and learn how much good there is in people," said Hu. "People we never knew are donating and helping us and it's just so amazing. It's great to finally give back to the community you've known all your life."
Anybody interested in becoming part of Project Quarantine should reach out to them through their Instagram page @project.quarantine. They are currently looking for drivers to help deliver food, suggestions for places they could partner with, and donations are always welcome to help with their cause.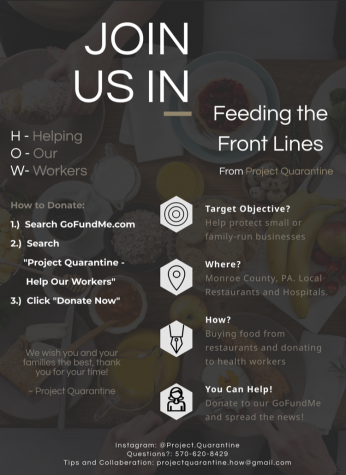 "As much as it brings me joy and satisfaction, the program consistently inspires me to move further and extend my wings, because no matter how many I help today, there are so many more struggling that I can help tomorrow," said Eljamri.
If anyone would like to donate to Project Quarantine information on how to do so can be found on the attached flyer.
Project Quarantine's instagram