SHS takes on a drive-in Homecoming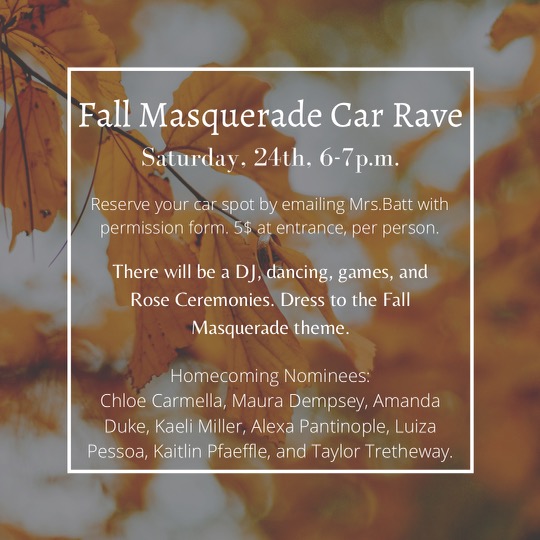 Get ready to rev engines at Stroudsburg High School's Homecoming Fall Fun Masquerade.
Due to the pandemic, SHS is forced to ditch its traditional homecoming procedures and make way for a drive-in pep rally.
On October 24 from 6:00 to 7:00 p.m., students will be lining up in the main staff parking lot of the high school to join in on the fun. The masquerade theme encourages students to dress up in costumes.
Homecoming Queen nominees will be competing in a TikTok dance competition, a relay race, and a rock paper scissors tournament. The students in attendance will also be able to participate in the pep rally favorite, "Jake's Game".
"It's definitely not a normal year," said Merideth Degler, 21', Student Government president. "But I'm really happy that we're putting in an effort to try and keep some of the same traditions that we've had in past years."
Like every event this year, social distancing procedures will be in place. Each car is allowed to have four students who all have a parent-signed waiver. Even so, masks must be worn at all times — in or out of the vehicle.
"There have been so many drive-ins, political events, car raves, you know," said Ms. Jennifer Batt, Student Government adviser. "They've been really successful and safe. Why reinvent the wheel when we already know what works?"
The students at SHS, although sad about the lack of normalcy and traditional events, are happy that there is something being planned.
"I feel like it'll be fun," said Lauren Deemer, 22'. "I am very interested in seeing how everything works out with social distancing and guidelines."
There are 56 total spots and they are first-come, first-serve. Tickets are $5.oo and payment will be collected from each individual student at the event.
To purchase tickets, students must email Ms. Batt at [email protected]. For more information, students should join the Homecoming Google Classroom with the link sent out through email by Mr. Jeffrey Sodl, SHS principal.
Leave a Comment