Student Spotlight on Cole Manetta-DeHaven
What motivates you to come to school?
My motives when I come to school are to work hard, create some memories with my friends, and to improve myself as a person.
What activities or hobbies do you enjoy outside of school?
My favorite hobbies outside of school are buying records and listening to them, and watching films.
What are your plans after graduation?
My plan after graduation is to go to film school or get a job as an assistant director.
Who do you consider your biggest role model, and why?
I would consider my biggest role model my mom because she has taught me to be responsible, caring, and loyal. My mom is the person who has taught me my most valuable lessons. Entertainment-wise, I would have to say my role model is David Bowie, of course.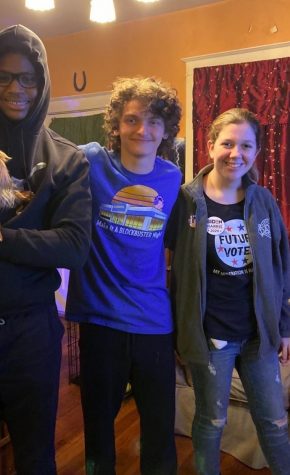 What is your goal for this year?
My goal for this year is to work hard, get good grades, and keep on being a good friend to my friends.
What is the greatest experience you have ever had?
The greatest experience that I have ever had was going to Radio City Music Hall and seeing Nine Inch Nails.
What is something that you have learned in your childhood that has stuck with you?
Something that I learned in childhood that has stuck with me was something that my stepdad said to me and it was along the lines of saying to slow down, don't take yourself too seriously, and don't be hard on yourself.
What qualities do you value in people?
The qualities that I value most from the people that I hang out with are loyalty, humor, and kindness.
What movie can you watch over and over without ever getting tired of?    
A film that I can watch over and over again is The Social Network, directed by David Fincher or Whiplash, directed by Damien Chazelle.
What's the funniest word in the English language?
The funniest word in the English language is definitely nitwit.