The Musical Sing will knock your socks off!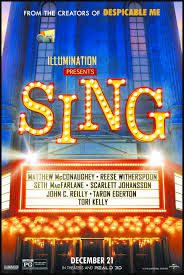 Coming From the people who brought you movies like The Minions and Despicable Me,Ai??Illumination Entertainment brings yet another fun and original animated movie to theaters near you.
SingAi??is written and directed by Garth Jennings. Ai??The film isAi??about humanoid animals with different backgrounds and personalities, yet they share a common love: singing. Starring famous voice actors and musicians like Matthew McConaughey, Reese Witherspoon, Seth MacFarlane, Scarlett Johansson, John C. Reilly, Taron Egerton, and Tori Kelly, the talent just keeps coming with every song.
The movie shows that no matter where you come from there is always an escape from or to something. It also sends the message that you are never forced to do anything. For the animals, there is always the frustration of being held back from the thing they really wanted to do. Ai??And guess what that is: Sing!
This film boasts a great screenplay and strong writing, and animation.
The group of musicians and performers are also fabulous. Ai??They can inspire a lover of any type of music to feel happy.Ai??Sing ranks up there with the greats of major motion picture films.
Sing earned 3 out of 5 stars in an informal poll of approximately 30 SHS students. Most students went to see this movie with younger siblings and had things to say such as, "It was an average movie," and "It was funny but could have been better."
Sing might not have rated as well among our students, but there is no denying it is a little funny to watch pigs singing Katy Perry. What did you think about the movie? Share your comments and suggestions below.
Ai??Ai??