SHS 2017 Valedictorian Christopher Vo shares insights about the honor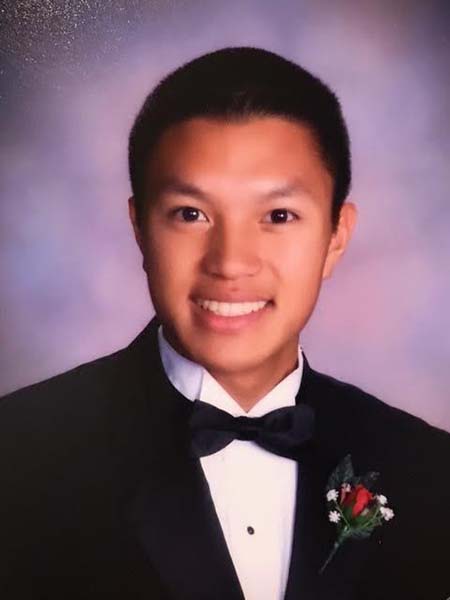 Describe your feelings about earning this impressive award.
I am very honored to receive this prestigious award especially since there are so many talented individuals in the Class of 2017. By earning this award, it confirms that hard work and determination can go a long way. Also, I could not have achieved this without the unwavering support of my family, friends, and teachers.
Which teacher/educator has been most influential in your academic success?
Both Mr. Clemson and Mr. Doney have been pivotal influences during my junior and senior years of high school. It was in their classes that I developed a fond interest in the areas of mathematics and physics. Besides being excellent teachers, they also provided guidance and support- something that I will always be thankful for.
Outside of education, who has been your greatest influence?
Without a doubt, my parents have been the greatest influences. They provided me with several resources to succeed and explore my interests outside of the classroom. My parents never pushed me to do something that I didnai??i??t want to do, but they were always supportive with anything that I wanted to pursue.
What are your plans after high school?
I will attend Penn State University this fall to major in mechanical engineering. At the same time, I plan on participating in club sports and a few clubs that are related to my areas of interest. Besides delving deeper in engineering, I look forward to meeting new friends and attending those high energy football games (We Are!)
What other award or goal have you received in high school that you are most proud of? Ai??Why?
Over the last two years, I was heavily involved with Mini-THON, a twelve-hour dance marathon that raises money for pediatric cancer treatment and research. Itai??i??s always a rewarding experience to be a part of an organization that raises money for a great cause. As an event coordination chair, I was able to plan the schedule while having the pleasure of working with some wonderful people. All of those months of hard work ultimately paid off. Raising more than $100,000 at this most recent Mini-THON was by far the greatest accomplishment during my high school career. #FTK
What are your favorite hobbies? Ai??And why do you enjoy them so much?
One of my favorite things to do during my free time is going out for a run. Itai??i??s nice to get some fresh air and clear my mind after a long day. There is a sense of calmness I get from running and an even greater feeling of accomplishment after finishing my run. I also enjoy hanging out with friends. Iai??i??m always down for relaxing and taking in the moment.
What has been most rewarding about your high school experience?
This past school year, I started an SAT math workshop to help underclassmen after scoring well on that section of the test. I felt that it allowed me an opportunity to give back and share the strategies that worked for me. Thereai??i??s something so rewarding about sharing my knowledge to help others succeed and reach their goals. I was so fortunate to have been qualified to teach and I valued all the time that I put into these sessions.
What advice can you give SHS underclassmen?
Have fun during high school! I know everyone says it, but these four years really do fly by. Hang loose, but at the same time, focus on what you are really passionate about. There is no need to overload yourself with too many extracurricular activities. You will find more success and have a lot less stress if you devote your time to a select few. In the process, you will discover more about yourself and have a clearer mindset about what you would like to pursue in the future.
Is there anything additional youai??i??d like to add?
If Iai??i??m being honest, I have some beef with Taylor Flanagan, our senior class president and salutatorian (shhh, please donai??i??t tell him I said that). Iai??i??ll never forget when he beat me in a handwriting contest in third grade; frankly, that still bothers me to this day.