Area students and supporters raise money for Leukemia and Lymphoma Society
Team 3A wins "Students of the Year 2021"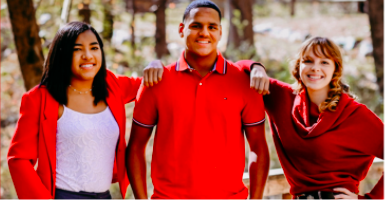 A group of local students has accomplished something amazing: they raised $62,000 for the Leukemia and Lymphoma Society through a program called Students of the Year (SOY). 
This special group called Team 3A consisted of the following people: Ashley Filipkowski, a senior at Stroudsburg High School, Alex Hafler, a junior at Pocono Mountain East High School, and Angie Espinoza, a sophomore at Pocono Mountain West and MCTI, along with family and friends, from team 3A.  
Students of the Year is a philanthropic leadership program for outstanding high school students.  The 7-week long program was created by the Leukemia and Lymphoma society.  During the seven weeks, the students involved compete to raise as much money as possible to donate to children fighting forms of blood cancer.
"I decided to participate in the campaign because it is such a great experience to have, and it gives patients a sense of hope that someone out there is fighting with them through their battle," said Filipkowski '21. 
To raise the money the members of Team 3A had to ask for donations small and large.  Big donations came from large companies.  Small donations came from friends, family, and other members of the community.  
"What sets SOY apart from other organizations is that the campaign is a competition between individuals or teams from schools throughout northeastern PA.  This year the campaign consisted of 16 teams," Ms. Kimberly Yarnall, a Team 3A parent. "Team 3 A won the competition by raising over $62,000 and together with the other 15 teams set a new record for our chapter exceeding $333,000.  This would have been an extraordinary accomplishment any year but unfathomable during a global pandemic."