SHS prepares to celebrate Moving Up Day and graduation!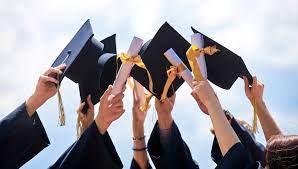 The 2021 school year is soon coming to an end, which means the SHS Moving Up Day and graduation is just around the corner. 
Moving Up Day is a unique, formal tradition where SHS celebrates the junior class's transition to seniors and honors the achievements of the Class of 2021. It is a right of passage through Stroudsburg High School that the community celebrates, cherishes.
To assemble this event safely, SHS will be holding Moving Up Day in the stadium on Friday, May 28 at 12:30 p.m. Due to the Coronavirus, Moving Up Day will be optional to attend and only open to juniors and seniors. 
Graduation for the class of 2021 will be held on Friday, June 4th at 8:00 PM in the stadium.
"Graduation is a very special event for all of us," said senior Dzhumile Hodzhova. "Some of us feel relieved that high school is over and happy to start college. I personally feel that graduation is an exciting time, but I will also miss high school and all the great memories." 
The ceremony will be broadcasted on Channel 13. The senior class president (Amanda Bruckstein), the Valedictorian (waiting to be chosen), and a third person, which can be any student from the graduating class of 2021 will each give a speech.
"Graduating is such a bittersweet moment; it's saying goodbye to our childhood while also welcoming in adulthood and the new chapter of our lives," said Amenya Jean '21.
The Mountaineer also has a popular feature called Senior Destinations.  It features photos and brief biographical information about each student and their plans for next year. All seniors are encouraged to submit their information ASAP. Throughout both events, students and family who are attending the event will be asked to maintain CDC guidelines. 
More information about Graduation and other senior events:
https://shsnews.org/category/sburg-spotlights/