Student Spotlight on Brie Vasquez
What is something you learned as a child that has always stuck with you? 
When I was younger, my mother always used to tell me that I had everything in the world going for me.  She would tell me that I was beautiful, smart, resilient and that I could truly do anything I wanted with my life.  She would tell me that I had a drive and persistence she admired.  She would always say to never waste this. This advice always went in one ear and out the other. I have come to realize that when I am head-on with adversity, my biggest obstacle is myself. I am so much more capable than what I give myself credit for. She made me realize to never give up and settle for mediocrity.  We are all capable of so much, never limit yourself. There are countless things that hold us back in life, my takeaway does not allow yourself to be one of those limitations.
Who are your favorite teachers and why? 
Mrs. Taylor truly has been the most impactful teacher that I've ever had. I've never had a teacher have so much faith and kindness towards me but simultaneously be able to correct me with utmost honesty. Two things I value very much. Her ability to have compassion and care for each of her students is always something I've admired. She taught me to appreciate and have pride in what I accomplish, not allow complacency, and always keep pushing myself. The lessons she taught me through music I have used in many aspects of my life these past few years. Special shoutouts to Mr. Zimm, Mr. Bruski, Mrs. Lobasso, Mrs. Krock, and Mr. Hakim.
What activities or hobbies do you enjoy outside of school? 
I participate in varsity field hockey and track. These both take up a majority of my time but a hobby of mine I feel I do not take enough light to is the orchestra. I have played violin since the age of 8 and it's been a huge part of my life and I participate in three orchestras. Violin has been a passion that has always been an escape from the immense stresses in my life. The complexity and beauty of the instrument are extremely frustrating but fulfilling. I feel music is something everyone should experience. 
What is something that most people may not know about you?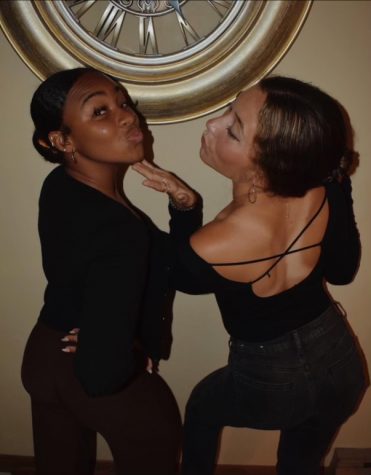 Something many people may not know about me is that I am a huge Marvel fan! Along with this, I love reading comics and graphic novels. Captain America will forever have my heart. 
How do you judge a person?
I have a poster in my room that's a famous quote by Dr. King that says "The ultimate measure of a man is not where he stands in moments of comfort and convenience, but where he stands in times of challenge and controversy." -Dr. Martin Luther King, Jr. 
What movie could you never get tired of watching? 
To name a few…. The entire MCU, The 1986 Labyrinth with David Bowie, Gravity starring Sandra Bullock, The Fourth Kind, and of course The Sisterhood of the Traveling Pants. 
What is your greatest weakness?
I can rarely admit when I am wrong and anyone who is friends with me can verify this. 
What qualities do you value in people?
I value honesty, kindness, and independence the most in people. 
What is the greatest experience you have ever had?
My uncle owns a tourist boat in the Cayman Islands where he takes tourists out to what they call "Stingray City". It's a sand bar a couple of miles off the island where stingrays breed. They take the tourists a few at a time into the water to swim and touch the stingrays.  The ocean is beautiful in Cayman; the water is crystal clear and the sand is gleaming white. Whenever I visit I get to go on a few of the trips. It is truly an amazing experience to be able to swim with these amazing creatures and is something I will always remember. 
Which countries/places would you like to visit?
I have been to Canada many times, but I would love to travel to Montreal.