Monroe County Historical Association celebrates 100 years since its inauguration
History is a double-edged sword. We understand our past and learn from it by preserving it, but ignoring it can lead to repeating the same mistakes.
At the Stroud Mansion, history is preserved through several artifacts and unique monuments.
In 1990, The Monroe County Museum Association and Monroe County Historical Society merged to establish the present-day Monroe County Historical Association.
This year's 100-year anniversary actually refers to the creation of the Monroe County Historical Society in 1921. Since the merger, several sites have been included to the Association such as the Stroud Mansion.
"
I just think that it's so important to reflect back on our past so you know where you are and where you come from"
— Amy Leiser
"I just think that it's so important to reflect back on our past so you know where you are and where you come from," Ms. Amy Leiser, Executive Director at the Monroe County Historical Association." You have an appreciation of all the hard work that people did before you."
The Stroud Mansion, located at 900 Main Street, Stroudsburg, originated as a gift, however, as of late it has become a historical museum that demonstrates the old way of life.
The Stroud Mansion was built in 1795 by Jacob Stroud, the founder of Stroudsburg. He built the mansion for his eldest son, John Stroud. He only lived there for a few years before moving out to a farmhouse. By building the mansion, Jacob had hoped his son would join him as his business partner, but John preferred the life of a farmer.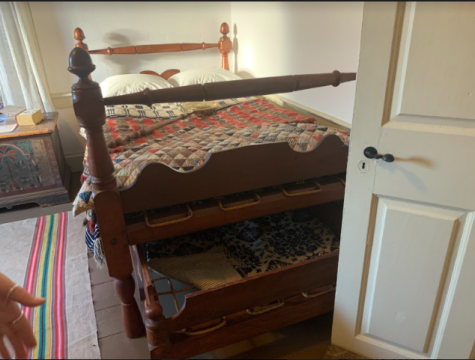 In the 1850s, the Stroud Mansion was made into a hotel by its owners. By this time, the Georgian-styled mansion was already made into a piece of history. The local chapter of the Daughters of American Revolution used the site regularly as a meeting place. By 1994, the Monroe County Association received control of Stroud Mansion from the trustees and it has remained in the association as a museum.
The current-day museum offers tours around the house to illustrate what life was like in the colonial era. The museum is closed as of now for safety reasons, however, the library within the mansion is open. The museum offers historical artifacts and colonial furniture. To find out more information take a look at the contact information below.
Link: https://www.monroehistorical.org/
Email: [email protected]
Phone Number: (570)-421-7703
Enjoy the photo gallery below:
Leave a Comment