SHS Yearbook, the Pioneer: meeting deadlines and making memories!
Seniors have a chance to earn a free yearbook!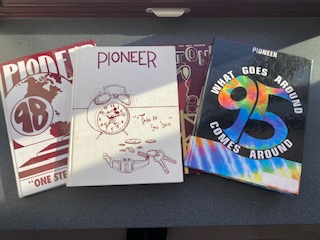 The Pioneer yearbook staff is making great progress with the 2022 yearbook!
The staff met its most recent goal by completing 32 pages this marking period. They have only 188 pages remaining. The estimated time for the Pioneer to be completed is in the middle of June.
The theme this year for the 2022 Pioneer is 'play it back'. It's a music theme!
This year, the students working on the yearbook are adding their names at the bottom of the page they put together. It is one way to give them a bit of recognition for their hard work. All of the students are not only working in class to finish their pages for the yearbook, but they're also making it the best it can be by working on it after school, staying up late, and on weekends.
Editor-in-Chief Rachel Bailey shared how much she enjoyed the club.
"I was in it last year," said Bailey. "I love it. I always love being part of something like this. It's really cool to see the progress from a blank page to a yearbook." 
Another goal the Pioneer staff has is to sell 400 yearbooks this year.  They are certainly on the right track.
"We sold 196 books which is a huge accomplishment!"  said adviser Ms. Sarah Cepin.
Students and staff can pre-order a yearbook for $62. The price will increase on February 26.
The Pioneer staff is also hosting a contest for seniors which will give them a chance to earn a free yearbook! Anyone who participates and purchases the senior recognition ad by February 25 will receive a free yearbook. The deadline for the contest is February 25, 2022. Students should contact Cepin for more information.
"We're right on track to hitting the National Yearbook Program of Excellence," said Cepin. 
The National Yearbook Program of Excellence is an award that is given for amazing efforts that go into making a yearbook and making it accessible to every student and staff member. Each year there is one winning yearbook that will receive this award.
Yearbooks can be pre-ordered at www.jostenyearbooks.com,
If seniors have any questions about the contest, they should contact Sarah Cepin. 
The 2021-2022 Pioneer staff:
Editor-in-Chief: Rachel Bailey, senior
Copy Editor: Hope Butler, senior
Photography Editor: Ashton Bergamino, senior
Business Manager: Evelina Ogrodniczuk, senior
Staff: Aylin Avci, Keyanna Chandler, Skye Franco, Dominique Latouche, Lieana Matos, Tylah Matos, Brielle McDonald, Helena Morehouse, Javeliee Rodriguez, Danielle Simony, Chelsea Stackhouse, Danay Torres-Acosta