Student teacher faces challenges with enthusiasm and wit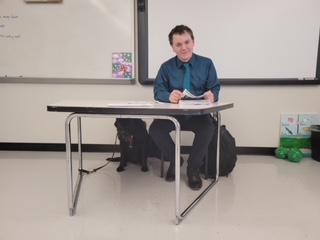 There is a new student teacher walking the halls of SHS, and he has a faithful companion at his side.
Mr. Michael Brown, a 2016 SHS graduate, is back as a prospective educator.  He is working with English teacher Mr. Andrew Kurnas.
Brown began his student teaching experience on January 25.  He describes his experience so far as "an example of overcoming adversity."
At first, such a statement may seem surprising, but after meeting Brown, it would likely make more sense.
Brown's faithful companion is his service dog Riley.
Brown happens to be blind. He went completely blind while he was a student in the Stroudsburg Middle School.  He managed to adjust and excel in school and graduated in 2016.  After high school, Brown attended Northampton Community College and is now currently attending Kutztown University, where he is completing his degree in  English secondary education. 
As a former student of Kurnas', Brown feels that being in the classroom as a teacher provides him with a different perspective, one that he is excited about applying in front of the classroom.
Brown believes that he and Kurnas have worked well together. They both describe their similarities in their teaching methods as "discussion-based learning."  
Kurnas enjoyed having Brown as a student and is excited about the challenge of helping the young man work with students.
"Our styles fit nicely," said Kurnas.
Brown is determined to "encourage students that their thoughts have value," he said. "Everybody has a different perspective for any problem. Think outside the box."