The late rapper Juice WRLD has new album released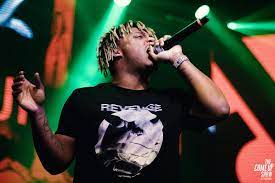 Juice WRLD, formerly known as Jarad Higgins, rose to fame in the summer of 2018 with one of his many hit songs, "Lucid Dreams." This song helped gain him a huge following.
Juice WRLD has over 2,000 unreleased songs, all being released on set occasions.  In addition, All of Juice WRLD's songs were all freestyles; he didn't write any music.
His music all came from the heart, which is why people loved him and his music.
Juice WRLD's team has been releasing songs since his death 12/8/19, including "Already Dead" and "Wandered to LA " featuring Justin Beiber.
Juice WRLD released his new album "Fighting Demons" on Friday, December 10. 
The original album name was supposed to be "The Party Never Ends", which was changed to "Fighting Demons" at the last minute because they have more songs they want to be released, and put it on another album.
There were a few songs on the album that have been leaked, including "Rockstar In His Prime" and "My Life In a Nutshell." 
Those songs are the two most popular songs on the album. There were many more that have been leaked. 
SHS junior, Bryan Lechene, and sophomore, Max Powanda, are fans of the late artist.
"It's was 100% fire, one of the best rappers to live," said Lechene.
"I love the flow and different beats in every song," said Powanda. "It's well put together."
Juice WRLD inspired many fans because of his motto "999." 
999 is a time in one's life where they have the power to make their dreams a reality, take the negativity, and make it into something positive.
Rest in paradise Jarad, 999.