American sports pastime shifts from baseball to football
It's the 7th inning stretch at PNC Park in Pittsburgh, Pennsylvania. Summer break has started for students in the city, and the home team Pirates are battling the Milwaukee Brewers, a rival and a playoff contender.  A sea of empty, blue seats floods the scene alongside the Allegheny River.  The floodlights shine down on a beautiful American ballpark, though the grounds seem forgotten by the home team's fans.
It seems as though it is a perfect setting for a high attendance game. Despite all of this, the stadium is only filled to 28 percent capacity.  Thousands of seats remain unsold night after night in a relatively new ballpark.
This sounds like a fantasy, something that wouldn't occur in a country where baseball has, in fact, been traditionally considered the national pastime. Unfortunately for baseball fans and players, attendance numbers are plummeting all across America.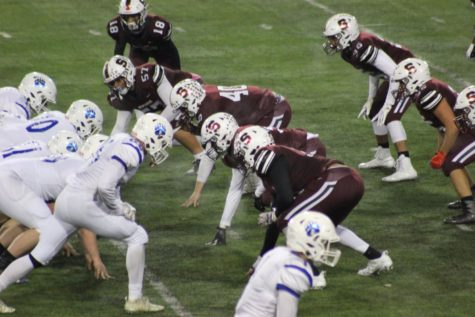 Starting in the 1970s, football overtook baseball as America's favorite spectator sport. Since then, the gap of relevancy has grown tremendously.  Today, football is vastly more popular than baseball.
In recent years, baseball has been labeled by many as slow and boring. It doesn't help that the media pushes more intense games such as football.  This combination has led to a decline in public interest in baseball.
One theory for the decline is that people today live in a very fast-paced society. With information at the fingertips of virtually every American, citizens have shorter attention spans. This does not mix well with sports that are slow-paced.
For example, the World Series, the culmination of a grueling 162 game regular season and a four-round playoff system, has seen a drastic decline in viewership. The 2020 World Series saw only an average of 9.8 million viewers over the six-game series. This number is far less than the 2019 average, which saw 13.9 million viewers on average.  For comparison, Super Bowls since 2000 average approximately 100 million viewers.
"
There isn't much you can do to change the game itself"
— Tyler Litts
While these numbers are, to a degree, influenced by the pandemic, which pushed all of the major American sports to compete at the same time, there are still major concerns about the relevancy of baseball in America.
Baseball requires attention to and an appreciation of the small details. There is approximately 20 seconds worth of downtime between pitches, and average game times last well over three hours.
Further, baseball is a thinking game, filled with strategy. The margin for error is tiny, and many games and plays come down to just a few inches.
Pace of play is something that MLB commissioner Robert Manfred continues to address. He has acknowledged the fact that the fans have a problem with the downtime between pitches and during frequent mound visits, and he has stated that the league is working to fix those issues.
"A lot of the complaints are that the game is way too long, and sometimes I can agree with that," said junior Tyler Litts, an avid baseball fan. "There isn't much you can do to change the game itself."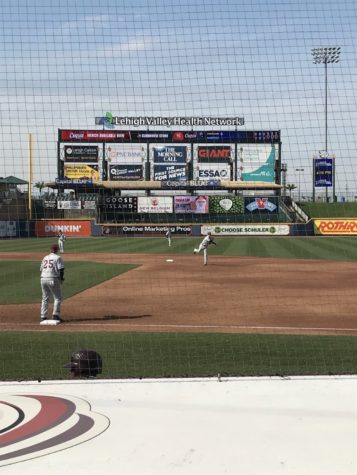 Americans used to live in a country where life was slower, simpler, and they had time to enjoy a baseball game for a few cents. Now, prices are too expensive for many families, and the game is simply not interesting enough for most.
On the other hand, football is widely regarded as the most popular sport in the United States. Hard-hitting, fast-paced action is just what many Americans enjoy watching. The NFL has essentially claimed their own day of the week (Sunday) in which fans hunker down, devour chicken wings, and watch games and fantasy football leagues all day long.
For example, the most-viewed football game in 2016 saw a total of 111.9 million viewers. Baseball saw a far less significant sum of viewers for their most-watched game, which only brought in a total of 40 million viewers.
One good way to measure popularity is how the rest of the world looks at sports in the United States.
"Our German exchange student just saw football right away," said junior Ethan Sodl. "Nobody else really has football in the world besides us. When you think of America, you think about football."
There are a variety of reasons why the NFL is so wildly popular. For one, the NFL has an average of over 51 points per game in 2020.  Conversely, baseball only has approximately 8 runs per game. All the scoring in football attracts more viewers.
More reasons include betting, gambling, and violence. Audiences love violence and they enjoy watching people smash into each other. Football specializes in bone-crunching hits.
"Football is always fast-paced and exciting," said sophomore Andrew Huntsberger. "The game-play is more active." 
Huntsberger also added that many of the players that he, along with many other sports fans, grew up watching are gone.  New York Yankee legend Derek Jeter is just one example. There is new talent, of course, but the casual fans have a hard time following new stars. This raises a topic that is worthy of discussion.
"
I love the energy I feel at football games. There is always something new in each play"
— Paraskevi Briegel
Generally, almost every person, sports fan or not, recognizes the names and faces of LeBron James and Tom Brady. They are the top players for the NBA and NFL, respectively. But when folks are asked to name just one current baseball player, oftentimes they will struggle or come up empty-handed.
One may say that baseball is still very relevant with regard to money. In fact, some of the biggest contracts are signed in the sport.  There is no salary cap, meaning that teams can spend as much money as they please. Some contracts have been signed upwards of 300 million dollars.
"The biggest money contracts are in baseball, so there is some popularity there still," said Sodl. "If they're signing hundreds of millions of dollars in contracts, they're making money."
While this may be true, massive sums of money come from television ads. Also, there are 162 regular season games in baseball as opposed to just 16 in football, meaning there are 146 more chances for baseball teams and broadcasting stations to make money. This leads to more money being circulated into the sport.
Another reason why football has surpassed baseball has to do with college athletics. While college baseball has hardly any audience to speak of, college football sees millions of fans tune into their games, whether that be in person or on television.
College football saw an average of 27 million viewers for their playoff games in 2019. This is a startling number for MLB fans. Millions of more people would rather watch late teens and early twenty-year-olds play football than generational talents play baseball at the highest level.
"I love the energy I feel at football games. There is always something new in each play," said junior Paraskevi Briegel.  "In the stadium at Penn State (football) games, I see not only students, but also alumni and families.  People can tailgate and spend time with one another." 
Briegel also added that football has a way of bringing people together through various activities that are unique to the game.
College football is a staple among universities in the USA. Gigantic stadiums (some with over 100,000 seats) pack in fans on fall afternoons to cheer on their favorite college teams. Baseball games could not be more different. Tickets can practically be handed away for free, excluding major tournaments like the College World Series, which hosted in Omaha, Nebraska.
The college game is a direct reflection of what occurs at the top level.
Manfred and company have their hands full with a sport that is dying in America. The MLB must explore new opportunities to advertise their sport in markets where baseball is unpopular. 
Between innings, baseball games often have activities on the field for the fans to enjoy. This may seem like a great way to get even more fans to come to games, but it just simply is not enough to really boost the game's popularity.
Undoubtedly, there is work to be done regarding adding fans to baseball. Still, there are fans across the nation who love baseball just as much, or even more, than football.
"There is passion from the fans that go," said Litts. "There is so much energy with a big moment, big strikeout, or a homerun. It just makes you feel good when you're there."
For now, baseball may have to be willing to take a back seat to football. Regardless of popularity, baseball will always nostalgically be regarded as the United States' national sport. The game has grown up with the relatively young country, and it has opened the door for many young athletes.
"As much as I can see a decline in baseball's popularity, it's been around too long," said Sodl. "I don't think it will go anywhere."
For a look at the popularity history, and possible future, of American sports, visit:
https://www.rgj.com/story/sports/2014/07/12/murray-past-present-future-americas-popular-sports/12587687/
For a look at more stats and quotes from the MLB Commissioner, Rob Manfred, visit:
https://apnews.com/article/14a72864fa504154a848e1c577582c06